Report: Donald Trump Jr's deceptive statement on Russia meeting was dictated by his father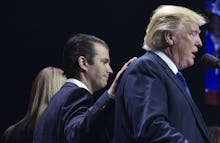 While flying home from the G20 Summit in Germany, President Donald Trump dictated the statement made by his son, Donald Trump Jr., in response to allegations that he met with a Russian lawyer during the 2016 presidential election.
According to an exclusive report by the Washington Post, while aboard Air Force One, the president became personally involved in the creation of his son's statement which was issued to the New York Times in response to its investigation into the meeting.
In the statement, Trump Jr. claimed he had met with a Russian lawyer to "primarily discussed a program about the adoption of Russian children." The statement additionally noted that the subject of the meeting was "not a campaign issue at the time."
However, as the Washington Post explained, that statement was later found to be misleading to the public, and the president's personal involvement could place him in further legal jeopardy, according to the Post.
"This was ... unnecessary," one of Trump's advisers, who spoke on the condition of anonymity, told the Post. "Now someone can claim he's the one who attempted to mislead. Somebody can argue the president is saying he doesn't want you to say the whole truth."
The adviser added that Trump is increasingly acting as his own lawyer, strategist and publicist.
"He refuses to sit still," the adviser said. "He doesn't think he's in any legal jeopardy, so he really views this as a political problem he is going to solve by himself."
While Trump and his lawyers refused to provide the Post with a comment, Trump Jr.'s lawyer, Alan Futerfas, told the Post that he and his client "were fully prepared and absolutely prepared to make a fulsome statement" about the meeting. On the president's involvement in the public statement, Futerfas said, "I have no evidence to support that theory," adding that several people were involved in crafting the statement including "communications people and various lawyers."
And while the Post noted that misleading the press and the public is not a crime, it will certainly not help Trump escape the spotlight in Special Counsel Robert Mueller's investigation into possible Russian interference in the 2016 election.
"The thing that really strikes me about this is the stupidity of involving the president," Peter Zeidenberg, the deputy special prosecutor who investigated the George W. Bush administration's leak of a CIA operative, said to the Post. "They are still treating this like a family-run business and they have a PR problem. .... What they don't seem to understand is this is a criminal investigation involving all of them."