NYPD fatally shot Dwayne Jeune, again raising questions about training officers on mental illness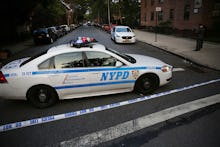 Police in New York City shot and killed a 32-year-old black Caribbean immigrant in Brooklyn on Monday, after his mother called 911 to report his emotionally erratic behavior, officials said.
Terence Monahan, chief of patrol for the NYPD, said several officers were let in to Dwayne Jeune's apartment and he immediately advanced on them with "a large carving knife." One officer attempted to subdue Jeune by shooting him twice with a stun gun.
But Jeune continued to advance on officers, Monahan said. Another officer opened fire with a handgun, striking the man in the chest, according to the New York Times.
On Monday, a New York Police Department spokesman told the Times he didn't know if the department's emergency service unit, with advanced training on handling mental health crises, had been dispatched to the scene.
The shooting reflects the persistent concerns of local civil rights activists and critics of the NYPD. Those concerns include the seeming lack of training for officers who encounter people with mental illness and the apparent failure to proactively deploy officers who do have the training. In the wake of a recent police shooting involving a mentally ill victim, Mayor Bill de Blasio asserted that training officers to better handle such encounters is a priority.
According to the Times, the NYPD, with a force of 36,000, has plans to train 5,500 officers on protocols that involve less lethal force on people exhibiting mental distress. Each year, the NYPD responds to roughly 150,000 calls that involve someone who may be mentally ill or experiencing a psychological crisis.
In October, police in New York City's Bronx borough shot and killed Deborah Danner, a black woman who was known to be living with schizophrenia. Police officials said Danner advanced on officers with a baseball bat. Police sergeant Hugh Barry fired the fatal shots. In May, Barry was charged with murder. Four years before her own death, Danner wrote about a similar death at the hands of the NYPD: that of Eleanor Bumpers, a mentally ill woman killed by the police in 1984.
Lethal encounters between law enforcement and people experiencing a mental health crisis have increasingly become a part of a national debate around policing reforms. In June, the shooting death of Charleena Lyles, a black woman whom Seattle police knew had prior issues related to mental health, revived a local debate around officers' training.
In Jeune's case, police had reportedly been to his family's Brooklyn apartment before for a reason Monahan, the patrol chief, didn't specify. The man's neighbors told the Times they had never been concerned for their own safety because of his mental health.
"Families shouldn't have to doubt whether they should seek help when a family member is experiencing emotional distress for fear of police killing their loved one," Carolyn Martinez-Class, a spokesperson for the local activist collective, Communities United for Police Reform, said in a statement released Tuesday.
"If the de Blasio administration has made mental health issues a priority, it is perplexing why the NYPD continues to be the first responder to these calls and recurring fatal responses by the NYPD to those in emotional distress is not being addressed with the seriousness required to prevent these killings," Martinez-Class added in the statement.
Aug. 1, 2017, 8:00 p.m. Eastern: This story has been updated.