Trump can't solve the MS-13 issue through deportation alone, according to experts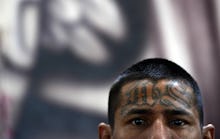 On Friday, President Donald Trump traveled to Brentwood, New York, to send a message to gang members. "To every gang member and criminal alien, we will find you, arrest you, we will jail you and we will deport you."
Trump stood in front of police officers, evoking violent imagery when speaking to police officers about the September murders of two Long Island teens, Nisa Mickens and Kayla Cuevas, allegedly at the hands of MS-13 gang members.
Without question, MS-13 — aka Mara Salvatrucha — is a growing issue along the East Coast. The gang has been implicated in 17 murders on Long Island in the last 18 months alone and it's estimated that 3,000 MS-13 members currently live in the D.C. metro area.
However, Trump's method of rooting out, rounding up and roughing up alleged gang members, be they MS-13 or otherwise, may be more akin to putting a Band-aid on a bullet hole than it is to a cure, as deportation will do little to fix the issues and risk factors lurking in the neighborhoods where gangs reside, according to experts with inside knowledge of how gangs operate.
"It would be laughable if there were not very real consequences to his rhetoric," Joshua Mason, an ex-gang-member-turned-courtroom-expert, said in an interview.
In 1997, at age 19, Mason pled guilty to attempted murder with a firearm enhancement. In his home state of California, that meant he would spend close to the next decade at Pelican Bay prison.
There, he was validated by the California Department of Corrections and Rehabilitation as a member of a predominantly Latino prison gang known as the Nortenos and was subsequently remanded to the Security Housing Unit for the duration of his sentence. He never thought about going home again, until a Bible showed up as a gift from his mother.
After reading and interpreting the Bible in his own way, Mason made the life-altering decision to walk away from his gang forever when he finally left prison at the age of 30.
"I spent almost half my life in a correctional facility and just wanted to see if there was another option."
Mason knows the cycle of gang life, and because of that he also has a few key suggestions on how to better deal with gangs in the U.S. According to Mason, who now works with attorneys around the country and consults with the likes of The Stanford Law School Immigrant Rights Clinic as a gang expert, it all starts with solving the way we treat the people living in communities targeted by gangs both in the U.S. and abroad.
"We're creating more crime with what we're doing," Mason said.
The history of MS-13 in the U.S.
As the Atlantic explained, MS-13 was founded by Salvadoran migrants in Los Angeles nearly three decades ago, and it spread to Central America after the United States cracked down on immigration and sent tens of thousands of undocumented gang members packing. Now, MS-13 is believed to have an estimated 70,000 members in Honduras, Guatemala and El Salvador. And it may only get worse from here, as Trump's 2018 proposed budget calls for a 35% reduction in State Department-run assistance programs for Central America and the Caribbean.
This cut, as White House Chief of Staff John Kelly himself noted, could cause more illegal immigration, not less.
"A stable country needs a strong, accountable government that protects its citizens, upholds the rule of law, and expands economic opportunity for all its people," Kelly said in a speech in April while still serving as the Homeland Security secretary. "Without this, countries fail, and their people flee."
In May, officials in El Salvador held an emergency meeting to help brace for that potential impact of both Trump's budget cuts and his plans to reinstate mass deportation.
"Probably we won't feel the symptoms today or tomorrow or the next week. But probably in six months or a year we'll be feeling the symptoms of what these deportations are causing now," San Salvador Mayor Nayib Bukele told the Washington Post in May. As the Post added, a few smaller fractions of MS-13 have begun to pop up around El Salvador, often naming themselves after the U.S. towns and cities where they were deported from.
Immigrant and poorer communities are most vulnerable to MS-13
But beyond sending the gangs away, the U.S. also systematically ignores the root cause of why anyone would want or need to join a gang in the United States, and what a "gang member" really is in the first place.
"One of the factors they consider before deciding you're a gang member is, do you live, work or frequent a gang-related area," Mason said, noting just one of the varying state definitions of what a "gang" is. "I was already halfway to being considered a gang member when I got brought home from the hospital."
In some states, dressing a certain way or living in a certain neighborhood can be all one needs to be considered a gang member, according to the National Gang Center. And in the state of California, that totally subjective determination could tack an additional 2 to 15 years onto someone's sentence, or even add on a life term.
"Being a bad somebody is better than being a nobody."
To make matters worse, beyond the kids born into a neighborhood with a gang presence, the United States is also sending thousands of unaccompanied minors to live with relatives whom they may have little to no connection with.
Furthermore, as the Associated Press explained, children who enter the U.S. illegally and unaccompanied are often placed with relatives living in the U.S. and often become easy targets for recruitment into these gangs because, as Mason put it: "Being a bad somebody is better than being a nobody."
This unorthodox immigration police has left children separated from parents and left newfound caregivers with little to no resources for help. Rather than leaving these sponsors in the cold, Mason suggested the government offer up community-based support services. "In those immigrant communities you have the players that you need, you just need to support them," Mason said.
Prevention, not deportation, is the first step, according to experts
And, like Mason, experts like Dr. Charles Katz, professor and director of the Center for Violence Prevention and Community Safety, believe prevention is the first, and perhaps most pivotal, step in preventing children from entering a gang in the first place, followed by intervention and finally suppression.
"Neither one of them works without the other," Katz said.
According to Katz — who says he's interviewed "hundreds and hundreds of law enforcement officers, thousands of ex-gang members and hundreds of MS members" — Trump may be wasting his efforts on MS-13. "While MS is a real threat in Central America, a genuine threat, here in the United States it's just not the same," Katz said.
Instead of pointing the finger solely at immigrants, Katz noted that "6% of all youth in the United States in one time or another will become a member of a gang." And the risk factors for a child entering a gang doesn't end at their race. Instead, Katz listed off several risk factors including where youth live, familial issues, unequipped school systems and, sometimes it "just comes down to the individual level."
Like Katz, Mason said both prevention and intervention are key steps we must take before we simply jump to suppression.
"There's violent folks of all stripes, but you take the power away with a support network," Mason said. His hometown of East Palo Alto, a small hispanic community nestled next to Silicon Valley, is a prime example of this theory in action.
What works, what won't
In the early '90s, East Palo Alto became the murder capital of the United States due to violent gang wars, leading to 42 murders in the town in 1992 alone.
But in 2014, the town's violent crime rate plunged by 64% in a single year thanks in large part to increased community involvement.
"They are calling us early so we can get involved before things escalate. We've done a lot of intervention, and that has reduced the violent crime," Police Chief Albert Pardini, who had just been appointed to his role, told the Palo Alto Weekly in 2014. Pardini said he walks through different neighborhoods with a commander to personally meet residents in their own front yards. And it appears his system of early intervention, transparency and openness to the community is still working, as the city's violent crime rate fell another 35% in 2016.
Both Mason and Katz agreed there is no question that MS-13 is a violent and dangerous gang, but they also agreed it doesn't warrant the attention it's receiving from the administration. Instead, Katz said, it's likely being used as a convenient talking point to further Trump's border wall and harsh immigration agenda.
"There are some violent folks out there. There's violent folks of all stripes, but you take the power away with a support network."
"Unfortunately, you know, in some ways it ties in with his policies toward immigration, so it's sort of a nice talking point to explain why his policies are important," he said. Katz explained we really don't have accurate statistics on gangs like MS-13 anymore because the annual National Youth Gang Survey, which provided "the only national data source for assessing long-term and annual changes in the gang problem," ended in 2012 under the Obama administration. Katz noted it as a cheap add-on the government can bring back to truly shed light on what's going on with gangs across America.
But, as Mason said, what the American public can do at the very least to try and stem the gang issue in America from reemerging is offer kids a little bit of hope.
"If I believe I can be anything and I can take risks without being left hanging out to dry and I can learn some lessons without them being fatal then why would I want to join a gang?" Mason said. "It's bigger than wins and loses and political banter. It's people's lives. They've got to stop with the rhetoric. It's radically unproductive."