'Resident Evil: Revelations' Nintendo Switch: The portable console gets its first 'RE' games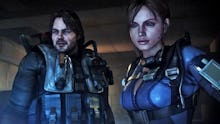 The Nintendo Switch is continuing to rack up new titles on its quest to provide a new home for some of our favorite franchises. This time it's adding Resident Evil: Revelations and Resident Evil: Revelations 2 to the fold, marking the first appearance of the survival horror series on the Switch — and the first appearance of Resident Evil on a Nintendo console since 2012. That means it's been five years since we've seen Resident Evil make its home on anything since the Nintendo 3DS and Wii U, which is a big deal.
Resident Evil: Revelations on Switch: A rightful return for the series
Resident Evil: Revelations and its sequel will be appearing on the Nintendo Switch sometime in late 2017, as announced by Capcom, though the company didn't provide a specific release date. The original Revelations is also making its way to PlayStation 4 and Xbox One as of Aug. 29, along with as its 2015 sequel.
We already knew that the games would be coming to PlayStation 4 and Xbox One, with both ports running at a "smoother 1920x1080 resolution" with additional details, revamped creature movement and a better frame rate. They'll also come with all of the downloadable content released for both games, as well as any unlockable rewards that were present with the games upon their release.
It's not clear if the same will go for the Nintendo Switch version, but Mic reached out to Capcom comment on the matter and we'll update this post if we receive a response.
Seeing the franchise return to a Nintendo console is great — especially since these particular games found their roots on the original 3DS. The news should also fuel even more speculation around Capcom's further plans for the Nintendo Switch.
It's about time for a new Resident Evil handheld game to make its debut outside of the Switch too, or at least a port of the venerable Resident Evil 4 and its excellent follow-up Resident Evil 5. Considering the Switch is cementing its status as the port machine of your dreams, it would make sense to see two of the greatest entries in the series make their home on the Switch as well.
Nintendo and Capcom, if you're listening, that's definitely a good direction for you to go in. Resident Evil 7 would work as well.
More Nintendo Switch news and coverage
Looking for more Nintendo Switch news? Check out how blind gamers are using the Nintendo Switch. Nintendo's left Joy-Con issue turns out to be a hardware problem — here's how to solve it. Find out how to buy a console amidst the recent restock. Learn why the Switch cartridges taste so bad. Check out our comparison photos sizing up the Switch to the Wii U GamePad (part one and part two), or find out how to make use of ethernet without the dock and the best way to get alerts when new stock arrives.