Who's who in Fox News' Seth Rich disaster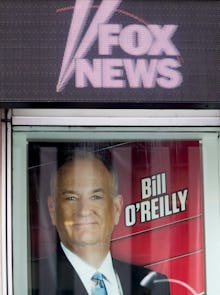 The mystery surrounding the murder of Democratic National Committee staffer Seth Rich deepened on Tuesday — just not the in the way Fox News, which propagated a conspiracy theory about his death, might've hoped.
After retracting a story suggesting Democratic operatives might have had something to do with Rich's death, several people at Fox are being sued by a private investigator hired by Rich's family to look into his death. The suit alleges Fox fabricated quotations attributed to the investigator.
The detective, Rod Wheeler, alleged that a coterie of Fox News staffers and a Republican donor concocted a grandiose murder mystery designed to stoke conspiracy theories that Democrats, and Hillary Clinton in particular, were somehow involved in Rich's death.
Wheeler claimed Fox fabricated quotations attributed to him in order to "advance President Trump's agenda," and that high-ranking White House staff, and even the president himself, had signed off on the story before publication.
The allegations painted an ironic picture of Fox News and the White House engaging in a very real conspiracy to to fabricate a fake conspiracy.
Fox president of news Jay Wallace denied Wheeler's allegations in an email to Mic:
The accusation that FoxNews.com published Malia Zimmerman's story to help detract from coverage of the Russia collusion issue is completely erroneous. The retraction of this story is still being investigated internally and we have no evidence that Rod Wheeler was misquoted by Zimmerman. Additionally, Fox News vehemently denies the race discrimination claims in the lawsuit — the dispute between Zimmerman and Rod Wheeler has nothing to do with race.
Here's a run-down of the important figures in Fox's Seth Rich debacle.
Seth Rich
The man at the center of the conspiracy is Seth Rich, who, at 27 years old, had just been offered a job by the Clinton campaign when he was killed on July 10, 2016, the Los Angeles Times reported.
According to the Times, Rich had been talking on a cell phone to his girlfriend, Kelsey Mulka, before he was killed. She heard voices on the other end before Rich hung up.
Rich was found shot multiple times, police said. His watch and wallet were found on his body, which fueled the conspiracy theory that his murder was not a robbery gone wrong. Washington, D.C. police are still investigating his death.
Fox first reported that Rich had been in contact with Wikileaks and the story quickly spread to the likes of the Blaze, the Daily Caller and other corners of the conservative internet.
Rich's family hired Rod Wheeler, a private investigator, to look into the murder. Soon after, Sean Hannity took up the case, waging a media war to discover Rich's "true" killer. Rich's family asked him to stop, but Hannity refused.
Rod Wheeler
Wheeler is a former Washington, D.C. homicide detective turned private investigator who was hired by Rich's family to investigate his murder. Police said the killing was likely a robbery gone wrong and, while Wheeler didn't dispute that possibility, he did imply there was more to the story.
In a May interview with Fox's Sean Hannity, Wheeler said there was reason to believe Rich had been in contact with Wikileaks days before it published thousands of Hillary Clinton's emails. At the time, Clinton was still in the running to become the next president of the United States.
Wheeler also claimed he'd learned from the Rich family that the DNC had contacted them to ask why Wheeler was snooping around the case after he'd reached out to the police about it. Finally, he suggested that the FBI wouldn't have been investigating the case if it were a simple murder.
In his suit, Wheeler claimed that Fox fabricated two quotations attributed to him: one which appeared to confirm Rich had been in contact with Wikileaks, and one which suggested definitively that someone was trying to stymie his investigation.
Among others, Wheeler sued Malia Zimmerman, the Fox News investigative reporter who authored the story, which was retracted a week after publication.
Malia Zimmerman
Zimmerman is the investigative reporter who wrote the story, now retracted by FoxNews.com, that Wheeler sued over. Wheeler accused Zimmerman, among others, of fabricating quotations.
This isn't the first time Zimmerman has been accused of shoddy reporting. After the FoxNews.com retraction, journalist David Gauvey Herbert implied Zimmerman had either relied on sources without credibility or fabricated quotations in a story about an Orlando, Florida, imam who was also the subject of a story of Herbert's.
Zimmerman claimed Omar Mateen, the Pulse night club shooter, was a follower of the Marcus Dwayne Robertson, the imam. Herbert disputed that claim, and wrote that the FBI later told him that there was no link between Mateen and Robertson. FoxNews.com never retracted Zimmerman's story, and, Hebert wrote that Robertson has received death threats as a result.
Before Fox, Zimmerman worked for Pacific Business News, Hawaii Parent Magazine and Hawaii Reporter, according to her LinkedIn profile.
Ed Butowsky
Butowsky, a Republican money man, was also named in Wheeler's suit. He's a frequent contributor to Fox News and Fox Business, a vocal Trump supporter and a Clinton opponent.
Wheeler alleged that Butowsky financed his investigation into Rich's murder on behalf of the family. Wheeler also alleged Butowsky supported Zimmerman's probe into the murder and acted as a liaison between Fox and the White House, which was aware of the story, supported it and signed off on it before publication.
According to the suit, Butowsky kept former press secretary Sean Spicer, who resigned on July 21, abreast of the investigation. He also reported to chief White House strategist Steve Bannon and Sarah Flores, director of public affairs at the Department of Justice.
Butowsky told BuzzFeed he considers Bannon "a friend and a very nice man," and serves as a board member for non-profit organization that Bannon chaired.
He's a wealth manager who lives in Dallas.