Everybody hates HBO's 'Confederate' show idea — even "Southern heritage" advocates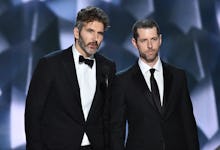 #OscarsSoWhite activist April Reign and her supporters on Twitter aren't the only ones railing against Confederate, the new HBO show being developed by Game of Thrones showrunners D.B. Weiss and David Benioff.
Some so-called "Southern heritage" advocates, who are often Confederate sympathizers, told Mic they actually agree with Reign that Confederate is a bad idea — but they argue it's because the premise of the show paints the South in a false and negative light.
Advocates like David Kukri of FreeMississippi.org want to preserve the legacy of the Confederacy and decry the removal of the Confederate flag and Confederate monuments from public spaces.
"All this show would do is make every Southerner be shunned for being a Southerner," Kukri said Tuesday.
The freshly greenlit Confederate is set to take place in an alternate present-day reality where the South won the Civil War, seceded from the United States and maintained slavery as a modern American institution (even though it already is in real life).
It's a premise that Reign, who co-created the #NoConfederate hashtag that went viral during Game of Thrones on Sunday, argues is racist and unnecessary.
Kukri, whose group is fighting to "stop the cultural genocide and ethnic cleansing of everything Southerners hold dear," argues Confederate is just another example of Hollywood trying to tell lies about the South and the Civil War.
"It is the saddest attempt to try to make the people call for the removal of our Confederate heritage," Kukri said via Facebook Messenger. "To believe that slavery would last [in the South] all the way to today's time is the most insulting statement I've heard."
Activist Andrew Duncomb, a 22-year-old African-American who goes by the nickname "Black Rebel," is one of many people fighting to keep government officials in New Orleans and elsewhere from taking down Confederate statues and monuments.
He says Confederate is the latest attempt by Hollywood to "trash the South."
"The intention behind it is to incite racial hate even more than what it already is," Duncomb said Tuesday. "It's a liberal standpoint and they're just trying to figure out how to make more money off of controversy. It's going to be anti-Southerners making this. They're going to boost it up and make it as controversial and demented as they can."
Civil War re-enactor Marilee Rehfield of the Washington Civil War Association is just as skeptical as Duncomb about the intent behind Confederate, but as a history buff, she says she'd be interested enough to watch the show.
"I would take a look at it to see if I thought it was done in a manner that provided some education, as well as being entertaining," Rehfield said Tuesday. "There's the opportunity to educate by doing the role reversal."
Rehfield, who says her ancestors were Union soldiers during the Civil War, is also against taking down Confederate monuments and believes the Confederate battle flag's symbolism has been "misconstrued" over the years.
In truth, the rebel "stars and bars" battle flag of Northern Virginia that many believe to be the official symbol of the Confederacy only became widely used throughout the South after segregationist Dixiecrats adopted it as their official symbol in 1948. The Ku Klux Klan began using the flag in the early-20th century as a racist symbol of white pride, and it's now flown by white supremacists in Germany because Hitler's Nazi flag is banned there.
Rehfield that Confederate could be a way for people to learn what she feels is the truth about the Civil War.
"Somebody has to portray what was going on and what the whole thing really was about," she said. "Slavery was not the real issue in the beginning. It was more state's rights that were the issue... It just depends on how the show is portrayed and what the public's going to do with it."
However, West Point Military Historian Ty Seidule confirmed that the primary cause of the Civil War was indeed slavery.
"The evidence is clear and overwhelming: slavery was by a wide margin the single most important cause of the civil war for both sides," Seidule said in Prager University video on the topic.
More media outrage
HBO is fighting to keep Confederate alive amid intense media backlash from people like New York Times columnist Roxanne Gay, who described the premise of the show as "slavery fan fiction."
"My exhaustion with the idea of Confederate is multiplied by the realization that this show is the brainchild of two white men who oversee a show that has few people of color to speak of and where sexual violence is often gratuitous and treated as no big deal," Gay wrote, referring to the lack of diversity criticism often lobbed at Game of Thrones.
"I shudder to imagine the enslaved black body in their creative hands," she added.
Husband and wife co-executive producers of the show Malcolm Spellman (Empire) and Nichelle Tramble-Spellman (The Good Wife), who are black, have been criticized for participating in Confederate's conception, but defended their creative vision.
"The project is not antebellum imagery," Malcolm Spellman told NPR. "It's not whips, it's not plantations, it's not a celebration or pornography for slavery. And, most importantly, it's not an entire nation of slaves."
HBO recently released the following statement on the issue:
We have great respect for the dialogue and concern being expressed around Confederate. We have faith that [writers] Nichelle, Dan, David and Malcolm will approach the subject with care and sensitivity. The project is currently in its infancy so we hope that people will reserve judgment until there is something to see.