Report: Justice Department will investigate affirmative action policies at colleges and universities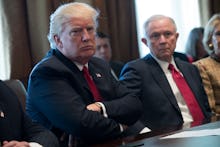 In an exclusive report, the New York Times revealed Tuesday that the Trump administration will attempt to redirect resources of the Justice Department's civil rights division toward suing universities whose affirmative action admissions policies are deemed discriminatory toward white applicants.
According to an internal document obtained by the Times, the civil rights division is seeking lawyers to work on a new project on "investigations and possible litigation related to intentional race-based discrimination in college and university admissions."
Though the Times notes the document does not explicitly identify whites as at risk, it notes that the phrase "intentional race-based discrimination," will endanger programs designed to bring more minorities to universities and colleges.
As the Office of Equal Opportunity and Diversity explained, affirmative action first became law after President John F. Kennedy signed an executive order on March 6, 1961. In the order, Kennedy wrote that government contractors "take affirmative action to ensure that applicants are employed, and employees are treated during employment, without regard to their race, creed, color, or national origin."
In 1965, President Lyndon B. Johnson signed a second order prohibiting employment discrimination based on race, color, religion and nation of origin. Since these executive orders, colleges and universities around the country began adopting similar recruitment policies, the National Conference of State Legislators noted. And their adoption of affirmative action guidelines has helped close a serious opportunity gap.
According to 2015 data from the National Center on Education Statistics, 70% of white children enrolled in college immediately after high school graduation, compared to 63% of African American graduates and 67% of Hispanic high school graduates, marking a small, but still meaningful, uptick in minority enrollment .
Kristen Clarke, the president of the liberal Lawyers' Committee for Civil Rights Under Law, told the Times, "This is deeply disturbing," adding, "It would be a dog whistle that could invite a lot of chaos and unnecessarily create hysteria among colleges and universities who may fear that the government may come down on them for their efforts to maintain diversity on their campuses."
However, Roger Clegg, a former top official in the civil rights division during the Reagan and George Bush administrations and current president of the conservative Center for Equal Opportunity, noted that the program will likely focus its attention on investigating complaints made against universities. He additionally called the project "welcome" and "long overdue."
As the Times explained, the Supreme Court chose to uphold affirmative action in a 2016 case, but added that there are several pending lawsuits challenging affirmative action programs at other colleges and universities including Harvard University and the University of North Carolina.
The Justice Department declined to comment to the Times or provide any additional detail. Read the entire report by the Times here.