Trump administration's plan to take on affirmative action is its latest attack on people of color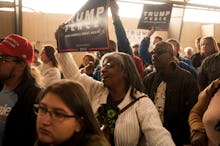 A year ago, Donald Trump, then the Republican presidential nominee, made a pitch to black voters in Michigan: "What the hell do you have to lose [by voting for me over Hillary Clinton?]" he said.
"You're living in poverty, your schools are no good, you have no jobs," Trump added before tossing in an exaggerated black youth unemployment statistic.
If reports that Trump's Justice Department is prepared to shift the agency's civil rights resources toward penalizing colleges with race- and gender-based affirmative action admissions are accurate, then greater equity in higher-learning institutions is the latest thing blacks and other racial minorities have to lose, civil rights leaders say.
According to a internal document obtained by the New York Times, the DOJ is gauging interest among agency lawyers for "investigations and possible litigation related to intentional race-based discrimination in college and university admissions." The project would target any university that lawyers deemed discriminatory toward white college applicants.
Within the DOJ's civil rights division, there is already a unit of reputably nonpartisan civil servants tasked with guarding against discrimination in education. But the Trump anti-affirmative action program would instead be run out of the Civil Rights Division's front office, where political appointees work, the Times reported.
By Wednesday evening, the DOJ and White House press secretary Sarah Huckabee Sanders refuted reports of an anti-affirmative action program. Justice Department spokeswoman Sarah Isgur Flores said the Times' story was based on an internal memo that sought volunteers for an investigation into a discrimination complaint, filed in May 2015 by a coalition of Asian-American student groups, that went unresolved during the Obama administration.
"This Department of Justice has not received or issued any directive, memorandum, initiative, or policy related to university admissions in general," Flores said in a statement. The Department of Justice is committed to protecting all Americans from all forms of illegal race-based discrimination."
Civil rights advocates had already blasted the plan as an attack on a core civil rights issue and a marginalization of career DOJ lawyers who have worked for decades to preserve fairness in educational access.
"The announcement today that [the Justice Department] is now actively seeking to challenge efforts that colleges and universities have undertaken to expand educational opportunity is an affront to our values as a country and the very mission of the Civil Rights Division," Vanita Gupta, the former head of the division under Barack Obama and president of the Leadership Conference on Civil and Human Rights, said in a statement released Tuesday evening.
Sherrilyn Ifill, president and director-counsel of the NAACP Legal Defense and Educational Fund, which was the leading litigant in the historic Brown v. Board of Education decision that legally desegregated public schools, said the anti-affirmative action program would be akin to picking a fight with the civil rights community.
"Affirmative action is rooted in our nation's fundamental commitment to equality ... and we will bring the full force of the law, if this Justice Department attempts to resegregate our institutions of higher learning," Ifill said in a statement.
Generations of Americans have benefited from affirmative action, which is a policy adopted in the 1960s and 1970s by universities and college across the country to spur race, gender and socio-economic diversity at institutions of higher learning. Even though the policies have increased the proportion of women and racial minorities on campuses over time, enrollment disparities between white, black and Hispanic high school graduates persist, according to researchers at the National Conference of State Legislatures.
In its statement, the NAACP LDF suggested that the DOJ affirmation action lawsuit may be its way of answering the 2016 U.S. Supreme Court decision in Fisher v. University of Texas at Austin. In the case, a white female student who applied to the University of Texas in Austin argued that she was unfairly denied admission to allow in more racial minorities with lower grades. Justices upheld a lower-court decision that UT Austin and other public universities have a legitimate interest in adopting race-sensitive admissions policies, when diversity cannot be achieved through other race-neutral means.
If the DOJ begins suing universities over affirmative action, that effort would provide more evidence to civil rights advocates that Trump and Attorney General Jeff Sessions intend to erode hard-fought civil rights protections for people of color. Voting rights, policing reform through consent decrees and protection of LGBT individuals under the Civil Rights Act are among the key issues the administration has changed course on, when compared to the Obama administration.
So, that list of things "you have to lose" is growing.
Aug. 2, 2017, 11:10 p.m. Eastern: This story has been updated to reflect the Justice Department's refutation of the New York Times' report.