'Splatoon 2' Super Jump: How to use the ability to catch major air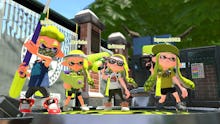 Splatoon 2 is an exciting blur when it comes to multiplayer mode. It's a mess of colorful ink as both teams struggle to control the stage in Turf War and a knock-down, drag-out battle for supremacy. You've got to keep your wits about you and make sure you utilize all of the special moves at your disposal if you want to rise through the ranks, and that means being able to help out your teammates as well.
Sometimes, this might mean putting yourself in danger to jump to a team member who needs your help. You can accomplish this very easily by performing a Super Jump.
Splatoon 2 Super Jump: How to perform this move in battle
When you're playing a multiplayer game with friends, you can actually jump right to them with a Super Jump to offer your assistance. Just head to the map and choose from a teammate who's out on the field. Then choose the one that you need to jump to for assistance most and your inkling will perform a Super Jump. This is basically teleportation, as your squid will instantaneously jump to where their teammate is located.
Of course, this could mean making yourself vulnerable to attacks when you land. To combat this, make sure you communicate and coordinate with friends so you all have a plan for when and where you're going to make your Super Jump to. There's even an indicator you can watch for other enemies' landings since the jumps go both ways. Keep an eye out, stay vigilant and you'll have mastered the art of the Splatoon 2 Super Jump in no time.
Next, make sure you ink your spawn point. That's an important bit of real estate that you shouldn't forget.
More Nintendo Switch news and coverage
Looking for more Nintendo Switch news? Check out how blind gamers are using the Nintendo Switch. Nintendo's left Joy-Con issue turns out to be a hardware problem — here's how to solve it. Find out how to buy a console amidst the recent restock. Learn why the Switch cartridges taste so bad. Check out our comparison photos sizing up the Switch to the Wii U GamePad (part one and part two), or find out how to make use of ethernet without the dock and the best way to get alerts when new stock arrives.