Trump said the Scouts called to say his speech was the "greatest." They say the call never happened.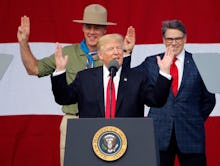 On Tuesday, Politico published the complete transcript from an over-the-top and meandering interview President Donald Trump gave to the Wall Street Journal.
In the interview, which was conducted just one day after his now infamous speech at the Boy Scouts Jamboree, a Wall Street Journal reporter asked Trump if he believed his speech garnered a mix reaction from the crowd.
"I'd be the first to admit mixed. I'm a guy that will tell you mixed. There was no mix there," Trump adamantly replied. "That was a standing ovation from the time I walked out to the time I left, and for five minutes after I had already gone. There was no mix."
The president then claimed he received a call from the head of the Boy Scouts saying it was "the greatest speech that was ever made to them, and they were very thankful. So there was — there was no mix."
However, according to the Boy Scouts that call never happened.
"We are unaware of any such call," a Boy Scouts spokesperson told the Associated Press. The spokesperson further clarified that neither Randall Stephenson, president of the Boy Scouts organization, nor chief scout executive Mike Surbaugh placed such a call.
On Wednesday, White House press secretary Sarah Huckabee Sanders attempted to clarify the president's statements during a press briefing, explaining that his claim of a conversation actually occurred with individual Boy Scout leadership members in person and not over the phone.
"I wouldn't say it was a lie," Sanders added.
And this isn't the only apparent "phone call" Trump's administration is backtracking on this week.
On Monday, while introducing Mike Kelly as his new chief of staff, Trump claimed, "As you know, the border was a tremendous problem and they're close to 80% stoppage. Even the president of Mexico called me — they said their southern border, very few people are coming because they know they're not going to get through our border, which is the ultimate compliment."
However, according to a statement released by the Mexican Foreign Ministry, Mexican President Peña Nieto "has not recently spoken to President Donald Trump over the telephone."
Sanders claimed that this conversation, like the one with the Boy Scouts, happened in person and not over the phone.