Trump endorsed "merit-based" immigration. Then a man who'd been accepted to college was deported.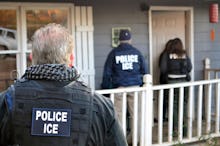 On Wednesday, President Donald Trump appeared alongside Sens. Tom Cotton (R- Ark.) and David Perdue (R- Ga.) to announce a revised version of a bill that would create a "merit-based" immigration system for immigrants seeking green cards in the United States.
The legislation would give priority to skilled immigrant workers with jobs over those who have family connections in the country. It would also slash the number of green cards awarding permanent residence distributed by half, reducing them from 1 million to 500,000.
Hours after Trump's ringing endorsement of the bill — he said it would correct the wrong that'd been done to "our people, our citizens and our workers" — two brothers living in Maryland were deported. One of them had just told ICE agents he'd been accepted to college.
According to the Washington Post, during a regular check-in with ICE, 19-year-old Lizandro Claros Saravia reported that he had plans to accept a scholarship to play soccer to a North Carolina college. He and his brother, Diego, entered the country without legal documents in 2009 from El Salvador. On Wednesday, ICE agents put both the brothers on a plane back to their home country, in what their attorney, Nick Katz, called the "fastest deportation process" he's ever seen.
"The ICE agents told me they were deporting the kids because Lizandro got into college, and that showed they intended to stay in the U.S.," Katz, senior manager of legal services at CASA de Maryland, told the Washington Post.
There's very little Katz can do for his clients by way of legal recourse. While neither brother has a criminal record, ICE spokesperson Matthew Bourke said a judge had issued both Lizandro and Diego a "final order of removal" in 2012. They'd remained in the country in spite of it.
Bourke went on to tell the Washington Post that, still, decisions about deportation were made "on a case-by-case basis, meaning they can be done differently."
Mic has reached out to the ICE Office of Public Affairs for further comment.
Those close to Lizandro and Diego suggested that maybe their case should have been reconsidered. CASA de Maryland is planning a march to the White House later this month to send that message to Trump's administration.
"The system is supposed to deport criminals — I am fine with that," said Lizandro and Diego's 29-year-old brother Jonathan. "But my brothers did nothing wrong. They've had their futures taken from them."