'PUBG' Servers Down: What to do during 'Playerunknown's Battlegrounds' maintenance, lag times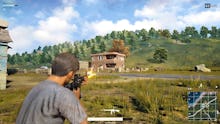 Given the massive popularity of Playerunknown's Battlegrounds, it makes sense that, sometimes, the game's servers are going to be under heavy load. Everyone's trying to log on and get their winner winner, chicken dinner, but what happens if you can't get into the game?
There are a few ways you can find out what's going on with the server so you can better plan your free time while you wait to play. Here's what to do if you suspect Playerunknown's Battlegrounds servers are down:
PUBG server status: How to check if PUBG is down
If you think the PUBG servers are down or if they're being extremely laggy, you can verify issues via several sources. First, you should check the official PUBG Twitter account for any announcements of server maintenance or problems. More often than not you'll be clued into what's going on
If you don't see any Twitter information there, the servers are likely working. From there, you might want to use the Twitter search tool with "PUBG" as a keyword. Chances are that if you're having issues, other players are experiencing them, too.
Your next step is to visit third-party sites like Outage.Report to check the game's server status. You can access the link to the PUBG page on Outage.Report, and you'll be met with a graph that shows which issues, if any, have been detected over the last 24 hours. There's also a live outage map and status bar near the top of the page that explains any current issues. If you want to report your own issue or check out past issues, you can do that, too.
Not sure where to go from here? There's always a different game to play until the server issues pass. Don't worry, it won't last forever!
More gaming news and updates
Check out the latest from Mic, like this deep dive into the cultural origins of Gamergate. Also, be sure to read this essay about what it's like to cosplay while black, a roundup of family-friendly games to play with your kids and our interview with Adi Shankar, producer of the animated Castlevania Netflix series.