ACLU sues Trump immigration officials for arresting undocumented teens with unproven gang ties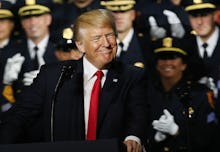 The American Civil Liberties Union is suing the Trump administration, accusing immigration officials of using efforts to crack down on the Latino gang MS-13 as a guise to round up and deport otherwise innocent undocumented teens.
ACLU attorneys on Friday filed a federal lawsuit naming Attorney General Jeff Sessions along with several federal immigration officials.
The suit claims the feds are arresting underage Latino youths accused of being gang members and processing them for deportation without first verifying they are actually in a gang.
"The agencies in charge of this effort do not undertake any meaningful review of the allegations of gang affiliation on which their decisions are based," the complaint reads.
In Long Island, New York, at least nine undocumented teens have been arrested by local police in recent months under similar circumstances after they were suspended from local schools for allegedly breaking rules with actions that signified they were gang members.
"Some of the alleged activity ranged from wearing a shirt with a small [MS-13 affiliated] Chicago Bulls logo to posting a picture on social media with the El Salvadorian flag," New York ACLU attorney Irma Solis said in a recent phone interview.
Two of the suspended students subsequently were picked up by ICE officers in early July and remained in federal custody earlier this week.
Civil rights attorney Peter Brill says one of his clients is a 16-year-old with no criminal record who earlier this year was suspended from his high school in Bellport, New York, for allegedly flashing gang signs during class.
While the teens parents were appealing the suspension, their son was picked up by ICE on July 6.
"His mother was called at work to come home," Brill said. "When she got home he was in the back of a police car."
The ACLU sent Freedom Of Information Act requests to the Suffolk County Police and the school district on Aug. 1 to try and figure out why students with no criminal records are being targeted as gang members by local police and ICE officers.
"We really do not want to think they're getting this information from the schools," Solis said, "but it's more than likely the information is going through the schools to ICE."
On Tuesday, South Country Central School District superintendent Joseph Giani denied the claim his district is helping local police or ICE target his students.
"We do not work with law enforcement to identify possible gang members or affiliates," Giani wrote in an email. "This allegation is simply untrue."
MS-13 is responsible for about 38% of all Suffolk County murders since 2016, according to local police commissioner Timothy Sini, who on May 22 told federal lawmakers on Capitol Hill that his department works closely with local schools and ICE to identify gang affiliates as part of its Gang Eradication Strategy.
"Circumstances do arise when we are not able to effectuate a criminal arrest, and [ICE] is able to utilize its immigration enforcement tools to remove these dangerous people from our streets."
Solis says some of those "dangerous people" are otherwise innocent minors who haven't been convicted or even charged with a crime.
"Our concern is these kids are being denied the opportunity to contest the fact they're being labeled as gang members," Solis said on Aug. 2. "In this war on gangs, you are now throwing a huge dragnet and seeing who you can catch."