Michelle Carter sentenced to 2 1/2 years in prison in suicide death of boyfriend Conrad Roy III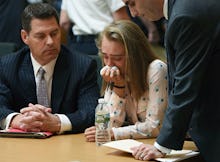 Michelle Carter, the 20-year-old Massachusetts woman convicted of involuntary manslaughter for pressuring her former boyfriend to die of suicide over text messages and on social media, has been sentenced to 2 1/2 years in prison — 15 months of which she will serve and 15 of which will be suspended until 2022.
Prosecutors asked for between seven and 12 years in prison, but Carter faced up to 20 years behind bars under the law, CNN reported.
In text messages in 2014, many of which were read in court, prosecutors said Carter, then 17, urged Conrad Roy III, then 18, to end his life.
"You're finally going to be happy in heaven. No more pain. It's okay to be scared and it's normal. I mean, you're about to die," Carter wrote in one message.
On July 12, 2014, Roy died of carbon monoxide poisoning, CNN reported. Police found his body the next day.
Roy had social anxiety and was depressed, his text messages reportedly showed. He had tried to kill himself before, Carter's attorney said.
In livestreamed proceedings, Carter's attorneys asked the court to sentence her to five years of supervised probation, given her youth and the fact that Carter had also been diagnosed with depression and an eating disorder.
"Ms. Carter, I suggest to this court, does not pose a danger to the public," attorney Joseph Cataldo said.
In his ruling, Judge Lawrence Moniz said Carter's age did not impact his decision. "I have not found that Ms. Carter's age or level of maturity or even her mental illness had any significant impact on her actions," he said. "She was a bright young lady, did well in school, and I am satisfied that she was mindful of actions for which she now stands convicted."
But Roy's lawyers and family argued Carter hadn't shown remorse for her actions and deserved to be punished.
"Michelle Carter exploited my son's weaknesses and used him as a pawn in her own well-being," Roy's father, Conrad Roy Jr., said. "She has not shown any remorse."
The case raised questions for legal experts about whether merely urging another to die of suicide was criminal. In Massachusetts, there is no law against encouraging another to die of suicide, but Moniz said Carter engaged in "wanton and reckless conduct" by urging Roy to take his own life.
Experts — including Roy Gutterman, an expert on the First Amendment and director of the Newhouse School's Tully Center for Free Speech — previously told Mic that Carter's case could lead to more aggressive prosecution of inappropriate online behavior, but noted that trial courts don't set legal precedents.
In a statement provided to Mic, Matthew Segal, legal director of the American Civil Liberties Union of Massachusetts, opposed the verdict in Carter's trial.
"There is no law in Massachusetts making it a crime to persuade someone to commit suicide. And there should not be any sentence handed down against Ms. Carter for involuntary manslaughter because her conviction for that crime is improper," Segal said in the statement. "It exceeds the limits of our criminal laws and violates free speech protections guaranteed by the Massachusetts and U.S. constitutions."
Aug. 3, 2017, 4:42 p.m.: This story has been updated.
Correction: Aug. 3, 2017