'Spyro' Remaster Release Date: Could Activision be teasing an updated PS4 HD remake for the dragon?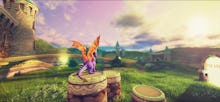 With the release of the Crash Bandicoot N. Sane Trilogy, fans of classic platformers were given hope that one of the other favorite mascots from the PlayStation era would be given a new lease on life via remaster. The one title fans continue to clamor for is Spyro the Dragon, who first made his debut on the PlayStation in 1998, and was a sort of unofficial mascot for the console alongside Crash.
Now, fans have been given a taste of the possibility that Spyro could be coming back, once more, if comments on a recent investor call for Activision are to be believed.
Spyro the Dragon: Could we see a HD remaster?
The most recent conference call with Activision revealed several tidbits, one of which included comments by Activision boss Eric Hirshberg, who talked up the latest Crash Bandicoot remaster's success and how there was potentially another IP in mind that could do just as well in the future.
"We knew that there was a passionate audience out there for Crash," Hirshberg had stated on the call. "Full disclosure myself among them, but we had no idea — it's hard to tell whether that's a vocal minority or whether that's a real mass audience until you put something out there."
He went on to explain how the Crash HD update actually surpassed all expectations, going on to become the "number one selling console game in June" based on units. Of course, this lead to the comment that the team thinks they have "other great IP" in their portfolio that they're considering at this time.
"I think you can be confident that there will be more activity like this in the future with more great IP," he continued.
Fans have, of course, taken this to mean that Spyro the Dragon is the game in question, though there hasn't really been anything to suggest that the property is coming back soon. Nothing beyond the statement from developer Vicarious Visions via IGN about how fans should "just keep asking" if they want to see the game. But that's far from a concrete answer.
However, it's entirely possible, since Spyro is massively popular, even if it's not exactly aged well. There's nothing solid on an HD remaster for the series, but it seems like an inevitability at this point when it comes to a revitalization for the little purple dragon.
More gaming news and updates
Check out the latest from Mic, like this deep dive into the cultural origins of Gamergate. Also, be sure to read this essay about what it's like to cosplay while black, a roundup of family-friendly games to play with your kids and our interview with Adi Shankar, producer of the animated Castlevania Netflix series.