'PUBG' First-Person Only Servers: How to play the new Solo and Duo FPP mode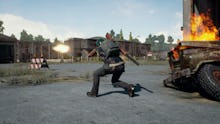 Playerunknown's Battlegrounds just welcomed its Early Access Month 4 Update, which brought with it a big bushel of new content including new features and additional items for players to enjoy. Part of the update included two new game modes in the form of Solo FPP and Duo FPP. The "FPP" refers to "first-person perspective," which is a mode where you play the game via first-person mode.
Solo FPP lets you play alone via first-person mode as if the game were a first-person shooter, but Duo FPP will pair you up with another person as you work together to be the last players alive. You can choose from either mode right now, despite both being in beta.
Playerunknown's Battlegrounds Solo and Duo FPP: How to access this first-person only game mode
When you start up the game and get ready to choose a mode to play in, you'll be presented with either Solo or Duo FPP mode. Simply have a friend play with you and choose the Duo FPP mode to jump in together. It's that simple.
While choosing that version of the game to play is easy enough, the actual game mode is hard. You won't get as much information about the world around you, and you can only see what's directly in your vicinity. It can be understandably frustrating, but it also provides much more immersion than you may be used to in PUBG. Give it a try, at least once, and you may find that this is a mode you gravitate to more often than not. It should even get better as time stretches on, too.
More gaming news and updates
Check out the latest from Mic, like this deep dive into the cultural origins of Gamergate. Also, be sure to read this essay about what it's like to cosplay while black, a roundup of family-friendly games to play with your kids and our interview with Adi Shankar, producer of the animated Castlevania Netflix series.