Trump has motivated immigrants to apply for US citizenship in record numbers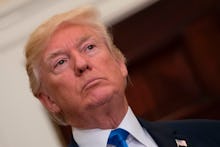 President Donald Trump's immigration policies compelled a record number of eligible immigrants to apply for U.S. citizenship in 2017, according to new research from one of the nation's largest immigration and refugee advocacy groups.
A study by the National Partnership for New Americans examined naturalization applications sent to U.S. Citizenship and Immigration Services offices across the nation.
NPNA deputy director Tara Raghuveer said citizenship offices nationwide received nearly 290,000 naturalization applications in the second quarter alone — the most applications ever received in a single quarter, representing a 15% spike from the same time in 2016.
Immigration offices in New York City and Newark, New Jersey, have received the most naturalization applications in 2017, according to the NPNA report. Chicago, San Francisco and Houston rounded out the top five for applications received.
Raghuveer said headlines about Immigration and Customs Enforcement raids, Muslim bans and a rise in overall deportations have driven many previously indifferent eligible immigrants to apply for full citizenship.
"This is something we're hearing from the field," Raghuveer said. "Folks are motivated to protect their families. They know that citizenship is the only permanent form of protection from deportation."
White House senior policy advisor Stephen Miller announced Wednesday that the Trump administration seeks to cut immigration in half within 10 years and will put in place a merit-based immigration system that prioritizes English-speaking and "high-skilled" immigrants.
Executive director Catherine Tactaquin of the California-based National Network for Immigrant and Refugee Rights said many Spanish-speaking Latino immigrants with whom her group works have interpreted that to mean a racial preference system placing them toward the bottom of the list.
"There's a concern that their families, their children, could be in full jeopardy going forward," Tactaquin said. "It absolutely could have a racial impact. This is setting up a discriminatory standard we thought we had done away with in past years."
For those reasons, Tactaquin said obtaining voting rights is also a priority for new naturalization applicants.
"We mobilize immigrant [voting], which has been working on exactly that kind of thing," she added. "They want to have a voice in upcoming elections, in 2020."