The State Department submits formal withdrawal from Paris Climate Agreement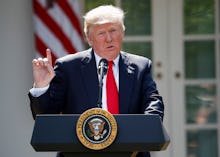 On Friday, the State Department issued a document officially informing the United Nations of its intentions to withdraw from the Paris Climate Agreement.
In a statement, the department said that the United States will continue to participate in the U.N.'s climate change discussions throughout the three-year withdrawal process, adding that the U.S. could re-engage in the accord if terms of the agreement improved. The very earliest date the United States could completely withdraw from the agreement is Nov. 4, 2020, just one day after the next presidential election. If a new president is elected, he or she could immediately rejoin the agreement.
President Donald Trump announced his decision to leave the agreement in June in a speech at the White House Rose Garden. There, he said he found the terms of the agreement "unfair" to the United States, but would attempt to renegotiate the country's involvement.
"Not only does this deal subject our citizens to harsh economic restrictions, it fails to live up to our environmental ideals," Trump said during his speech. "As someone who cares deeply about the environment, which I do, I cannot in good conscience support a deal that punishes the United States — which is what it does — the world's leader in environmental protection, while imposing no meaningful obligations on the world's leading polluters."
By leaving the agreement the United States joins just two other nations — Nicaragua and Syria — in declining to participate in the global pledge.
"As the President indicated in his June 1 announcement and subsequently, he is open to re-engaging in the Paris Agreement if the United States can identify terms that are more favorable to it, its businesses, its workers, its people, and its taxpayers," the State Department said in its press release, adding that the U.S. will continue to support a balanced approach to climate policy that "lowers emissions while promoting economic growth and ensuring energy security."