Report: Fox News host Eric Bolling allegedly sent lewd texts to female colleagues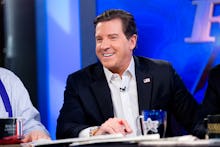 On Friday, HuffPost reported that longtime Fox News host Eric Bolling sent an unsolicited photo of male genitalia via text message to at least three of his female colleagues, two at Fox Business and one at Fox News.
According to the report, a dozen sources and the three recipients of the text confirmed its contents. Four people, not including the sources, claimed to have seen the photo themselves, while eight more said the recipients had spoken to them about its contents.
The women, who said they did not solicit the messages, claimed they recognized the number as Bolling's from previous work-related interactions. The lewd message was sent to all three of the women several years ago on separate occasions, HuffPost reported.
When asked for comment, a Fox spokesperson told HuffPost, "We were just informed of this and plan to investigate the matter."
Meanwhile, Bolling's attorney, Michael J. Bowe, responded, "Mr. Bolling recalls no such inappropriate communications, does not believe he sent any such communications, and will vigorously pursue his legal remedies for any false and defamatory accusations that are made."
The sexual harassment claims against Bolling add to an already lengthy list of allegations made against male employees at Fox.
In April, the New York Times reported that Fox News has cost its parent company more than $85 million in sexual harassment-related payouts. A large chunk of that cash went to severance checks for Bill O'Reilly and one-time Fox CEO Roger Ailes.
As HuffPost reported, Fox recently renewed Bolling's contract for a multiyear extension. In a statement, Fox News co-president Suzanne Scott told HuffPost said that the host's "insight is valued, and we are pleased to have him at the network for many more years to come."