'PUBG' Steam Stats: 'Playerunknown's Battlegrounds' has reached 500,000 concurrent players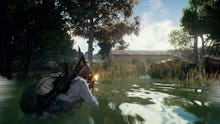 Playerunknown's Battlegrounds' popularity grows ever larger with each day that passes. Everyone is playing it. If they're not playing it, they're talking about it, or asking about how to play some of its newer features. It's gotten so large, in fact, that developer Bluehole has just announced that the game has hit a whopping 500,000 concurrent players. That's a whole lot of players to be in one game all at once. Like, a whole lot. Given some time, it could get even bigger, and that's hard to imagine.
PUBG: Bluehole's multiplayer game is rapidly gaining popularity
PUBG placed behind Dota 2 and above Counter-Strike: Global Offensive for a brief time, and it's on its way to the top of the Steam leaderboard, according to a tweet from the official Twitter account.
Of course, with all these concurrent players, that means a lot of problems as well. PUBG has been at the center of some drama recently, banning players that streamers had accused of "stream sniping." Weirdly, it's also spawned annoying photos of players' feet near their screens while displaying the "Winner Winner Chicken Dinner" screen at the end of a match.
Playerunknown's Battlegrounds has sold about 6.2 million copies so far, according to SteamSpy, and it hasn't even officially launched yet. It'll be hitting Xbox One later this year, but there's no concrete launch date thus far. For now, if you're a fan, you may want to bask in the glow of the calm before the storm. Once it's released in full, it's only going to attract more players from here.
More gaming news and updates
Check out the latest from Mic, like this deep dive into the cultural origins of Gamergate. Also, be sure to read this essay about what it's like to cosplay while black, a roundup of family-friendly games to play with your kids and our interviewwith Adi Shankar, producer of the animated Castlevania Netflix series.