4chan tried to lure immigrants into deportation traps. It didn't work.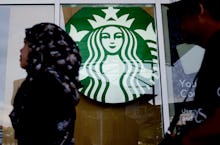 Users of the notorious internet message board 4chan reportedly tried to have undocumented immigrants deported by offering them free iced coffee.
As first reported by BuzzFeed, users of 4chan's /pol subforum, a space for "politically incorrect" discussion, hatched a plan to promote "Dreamer Day," a fictitious event at which Starbucks would offer free drinks to undocumented immigrants. When they arrived to claim their free drinks, agents of Immigration and Customs Enforcement would be waiting, having been alerted by 4chan users.
4chan users created realistic-looking promotional materials to be spread online.
But the plan was exposed on Twitter and elsewhere on social media after Starbucks caught wind of it and began telling customers "Dreamer Day" wasn't real.
Starbucks did not immediately respond to a request for comment from Mic.
An ICE official told Mic on the condition of anonymity that the agency was in no way involved in the plan and didn't approve of it. "We certainly would not participate in any kind of scheme like this," the agent said. "This kind of thing is irresponsible and potentially dangerous and it's not something we would be a part of." The agent added that ICE does not target DREAMers — immigrants who participate in the Deferred Action for Childhood Arrivals program — "unless they violate the terms of that program somehow or their DACA expired."
This is not the first time the nation's most popular coffee chain has been targeted by the right wing. In November, Trump supporters protested it (by buying more of its products) after a video of a man raving that he'd been given slow service at a Miami Starbucks because he voted for Trump went viral.