'NBA 2K18' Player Ratings: Top 5 point guards revealed in the upcoming game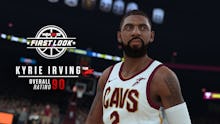 The player ratings for the upcoming NBA 2K18 are beginning to roll in via NBA 2K on Twitter.
This has long been the practice of the undisputed king of the virtual hardwood. The slow release of the information is just one of the cogs in a massive hype machine. Here's a look at what we know so far about the game's top point guards.
NBA 2K18 Player Ratings: The point guards
This year, the Cleveland Cavaliers' star point guard Kyrie Irving is the cover athlete for the game, but he's not the highest-rated player. In fact, Irving isn't even the highest-rated player at his position.
For now, that spot belongs to two-time MVP winner and Golden State Warriors star Steph Curry. The Chef checks in with a 94 overall rating.
Here's a look at the top five rated point guards who have had their player ratings revealed:
Steph Curry, 94, Warriors
Kyrie Irving, 90, Cavaliers
John Wall, 90, Washington Wizards
Isaiah Thomas, 89, Boston Celtics
Damian Lillard, 89, Portland Trail Blazers
You can't go wrong with any of these guys at point guard, but it should be noted, Thomas and Lillard probably won't be in the top five once all of the ratings have been made public.
We still don't know what the Oklahoma City Thunder's Russell Westbrook will be rated. He won league MVP this past season while averaging a triple-double. You'd have to assume he'll be rated at least a 95.
Also, the newest Houston Rockets star Chris Paul could be rated a 90 or above. He'd likely push Lillard and Thomas out of the top five.
In any case, it's hard to imagine Irving falling out of the top five.
More sports gaming news and updates
Love sports games? Check out more content from Mic, including tips for leveling up your NBA 2K17 MyPlayer, playing quarterback in Madden 17, our review of MLB The Show 17 and the classic Nintendo sports games we want to see on the Switch.