Judge greenlights lawsuit against two psychologists responsible for CIA's use of waterboarding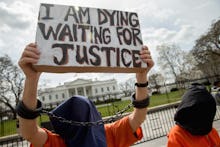 On Monday, the American Civil Liberties Union announced that its lawsuit against the two former military psychologists who are allegedly responsible for the CIA's implementation of a torture program will head to trial.
The trial against James Mitchell and John "Bruce" Jessen will begin on Sept. 5 and is expected to last a few weeks, the ACLU said in a statement.
"This is a historic day for our clients and all who seek accountability for torture," ACLU attorney Dror Ladin said in the statement. "The court's ruling means that for the first time, individuals responsible for the brutal and unlawful CIA torture program will face meaningful legal accountability for what they did. Our clients have waited a long time for justice."
The lawsuit was brought on behalf of Suleiman Abdullah Salim, Mohamed Ahmed Ben Soud and the family of Gul Rahman who, according to the ACLU, froze to death in a secret CIA prison.
On Friday, Judge Justin Quackenbush denied motions for a summary ruling by both the ACLU and the lawyers representing Jessen and Mitchell. Quackenbush did however offer a stern warning about how the trial will proceed.
"I will not allow it to become a political trial on 'Did the then-Bush administration do wrong in its reaction to interrogation of detainees following 9/11 of '01?' That's not what this trial is about," Quackenbush said, according to the New York Times.
Instead, Quackenbush said, he wants the trail to answer the question, were the plaintiffs "subjected to torture, and if so, did the defendants aid and abet — legally aid and abet and factually aid and abet — that torture?"
According to the ACLU, Jessen and Mitchell were central figures in the CIA's torture program in the days, weeks and months following 9/11 and drafted the list of "enhanced interrogation techniques" used by the United States government on terror suspects. Those techniques included "stuffing them inside coffin-like boxes, exposing them to extreme temperatures, starving them, inflicting various kinds of water torture and chaining them in stress positions designed to inflict pain and to keep them awake for days on end."
While many of these techniques have been banned, in 2016, then-candidate Donald Trump said he would "bring back waterboarding and I'd make it a hell of a lot worse than waterboarding."
Mitchell and Jessen also profited handsomely from their torture handbook throughout the years.
According to the Times, both Jessen and Mitchell were paid up to $1,800 a day as consultants to the CIA. The two later formed a new company, Mitchell, Jessen & Associates, which was paid $81 million over several years to expand the CIA's interrogation program.
Jessen and Mitchell's lawyers argued that the men were not responsible for their work as it was the CIA who ultimately decided which detainees would face their techniques.
However, according to the Spokesman-Review, there is evidence to suggest Jessen did in fact directly participate in the interrogation of Rahman.
Rahman was allegedly forced to wear a diaper and chained to the floor of his cell where he later died of hypothermia. According to the ACLU, his body has never been returned to his family for burial.