Lawsuit accuses Louisiana judge and house arrest company of scheming to exploit criminal defendants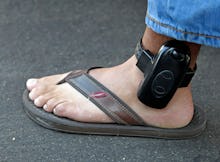 The nation's ongoing judicial reform battle against bail bond exploitation continued in Louisiana on Tuesday where two legal watchdogs are accusing a circuit court judge and a house arrest company of "racketeering."
In a new class action suit, the ACLU and the Southern Poverty Law Center say Judge Trudy A. White and the Baton Rouge-based Rehabilitation Home Incarceration company previously coerced multiple criminal defendants, who had already paid their bail, into paying RHI hundreds of additional dollars per incident for their pre-trial freedom.
"The practice occurs with the knowledge of Trudy White... who sets bond for arrestees and indiscriminately orders them to undergo supervision by RHI, often for indefinite periods of time before their cases go to trial," the complaint authors wrote.
RHI executive director Cleve Dunn Sr. and his son Cleve Dunn Jr. also allegedly worked previously as paid employees on White's 2014 re-election campaign, according to the complaint.
"RHI officials and Judge White are political allies," the complaint authors wrote. "Cleve Dunn Jr. served as chairperson of Judge White's Campaign Committee."
Mic reached out to White and RHI for comment on the allegations and will update this story if they respond.
The larger problem with bail bonds
ACLU senior staff attorney Brandon Buskey said the case against RHI is the latest example of an increasing pattern of bail bond extortion happening across the U.S.
"It is indicative of a much larger problem," Buskey said Tuesday. "This is an outgrowth of that type of predatory and abusive supervision of people who are assumed innocent."
On June 16, the SPLC sued two additional Louisiana bail bond providers and four related insurance or pre-trial monitoring companies on behalf of Louisiana native Ronald Egana and his family.
The companies were accused of extorting Egana and his loved ones into paying more than $6,000 in illegal ankle monitoring fees of $10 a day over the course of more than a year.
When Egana couldn't or refused to pay, one or more of the companies eventually sent bounty hunters to capture and take him back to jail, according to the complaint.
"To meet this expense, [Egana and his loved ones] have borrowed money, spent down their savings, and fallen behind on household bills," the complaint reads. "After Mr. Egana's surrender for nonpayment of the bail premium, this money was never refunded, even though state law requires it be so."
An estimated three out of five incarcerated people in the U.S. are in jail or prison because they can't afford bail, according to a 2015 Vera Institute of Justice study. The Pretrial Justice Institute estimates those potentially innocent incarcerees cost U.S. tax payers more than $14 billion every year.
"We require bail to guard against things like flight risk or where a defendant might present a safety risk," Buskey added, "but that is not how it works in practice."