"And that is the real news": Trump TV is realized as part of re-election campaign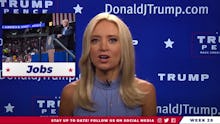 Nearly nine months after Donald Trump was elected, "Trump TV" is beginning to take shape as part of the embattled president's 2020 re-election ambitions.
The two hosts of pro-Trump videos that have been published on Trump's Facebook page so far are Lara Trump — wife of the president's son, Eric — and Kayleigh McEnany — a former pro-Trump commentator for CNN and a recently hired Republican National Committee spokesperson.
Lara Trump's video, a two-and-a-half-minute segment posted to the Donald J. Trump Facebook page on July 30, was the first sign of a new video-ad effort designed to look like a broadcast news segment. In the video, Trump's daughter-in-law addresses the camera in front of a blue backdrop as she, beaming, rattles off a series of Trump's accomplishments that she claimed the media had failed to cover.
"I bet you haven't heard about all the accomplishments the president had this week because there's so much fake news out there," she says at the beginning of the video.
A week later, McEnany — who gained notoriety at CNN as a fervent pro-Trump voice — took the same anchor chair to perform a similar routine, this time complete with graphics and triumphant, patriotic-sounding music. (McEnany was named the new spokesperson of the RNC a few hours later.)
Both women ended their segments with the same sign-off: "And that is the real news."
The Washington Post fact-checked McEnany's claims, referring to the minute-and-a-half video as "state TV"; others despaired that the videos were an example of an overt propaganda effort. But Trump supporters praised the videos as a way for Trump to circumvent the mainstream media, which they believe to be biased against him.
McEnany and Trump both said during their segments that they were providing a weekly news update, so presumably more of these videos will continue coming out every week. It remains to be seen who else might join the cast of characters to be featured in the pro-Trump videos, and the Republican National Committee did not respond to a request for comment about whether McEnany will appear in more videos going forward.
The weekly videos are being paid for by Donald J. Trump For President, a political action committee fundraising for Trump's re-election campaign. And according to the Daily Beast, the video production effort is being spearheaded by Lara Trump. In March, Trump, a former Inside Edition producer who has served as a Trump surrogate at certain Republican events, began working as a senior consultant to Giles-Parscale, a digital marketing firm tasked with handling Trump's re-election that is reportedly working on some of the video production. (A representative for Giles-Parscale did not respond to a request for more information.)
The videos with McEnany and Trump look like a new operation — they are being filmed out of Trump Tower from a newly constructed set built in the re-election headquarters. But the videos seem and sound a lot like the rumored Trump TV media venture that members of Trump's campaign reportedly considered implementing before the November election, which they even appeared to test out in a series of live Facebook videos in October and November.
Those live videos, as this reporter noted at the time, were also streamed out of Trump Tower. They were put on by the conservative online media company Right Side Broadcasting, and they featured a slate of guests who regurgitated pro-Trump talking points and praise. The pro-Trump videos were filmed every weeknight through the election and included cameos from pro-Trump pundit Tomi Lahren, who is now employed by the pro-Trump super PAC Great American Alliance, and other pro-Trump commentators, including members of the Trump family.
At the time, Vanity Fair reported that Trump was considering launching a television media venture of some sort. But Trump and his team shot down those reports. Trump said in an interview that he had "no interest" in any version of what has been dubbed "Trump TV."
The videos are just part of a broader landscape of pro-Trump video content being posted to the president's Facebook page, which is followed by nearly 24 million people. In a video from late July, Lara and Eric Trump appear side-by-side in a short video requesting donations. Many other videos posted to the president's Facebook page as of late have included a series of still images of Trump's tweets with patriotic-sounding music playing in the background.