A 16-year-old invented an app to help diagnose her grandfather's eye condition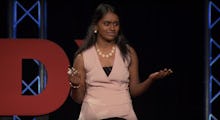 A teenager managed to develop an app that can help diagnose a diabetes-related condition affecting her grandfather.
Kavya Kopparapu's grandfather lives in India, where there aren't enough ophthalmologists to help diagnose all of those who could be affected by diabetic retinopathy. DR is the world's leading cause of vision loss in people age 20 to 65, according to the International Agency for the Prevention of Blindness, which estimated that 50% of people with diabetes are undiagnosed. DR happens when the blood vessels at the eye's retina are damaged, and can cause varying degrees of blindness.
But in the absence of proper doctors, "computers could be used in their place," Kopparapu, 16, said in a TEDx talk on artificial intelligence. Alongside her brother and another classmate, she invented Eyeagnosis, a smartphone app that can photograph patients' eyes and match them to a database of 34,000 retinal scans collected from the National Institute of Health. The method uses machine learning techniques and artificial neural networks, which work sort of like the human brain — in other words, the 34,000 scans helped train Eyeagnosis to detect DR.
The app must be coupled with a 3D-printed lens attachment in order to actually look at the patient's eye — it's a smartphone case with two arms reaching away from the phone camera, with a glass lens attached. The phone camera's flash helps light up the eye, and then the phone snaps a closeup picture using the attached lens. The device is significantly more portable than a typical hospital machine.
In her TEDx talk, Kopparapu said that AI and her invention could bring "a future where a diagnosis is available to anybody, regardless of where they live, the availability of doctors, money or even electricity."
She has already shipped a prototype of her lens to a hospital in India, the Verge reported.
"I envision a future where patients will know definitively what genetic disorders they are predisposed for and can take charge of their own future," she said in the TEDx talk. "I envision a future in which we can save lives."