'Destiny 2' PvP Trailer: Latest gameplay footage details the Crucible competitive multiplayer mode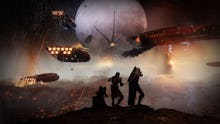 Destiny 2's biggest draw will no doubt be its multiplayer mode, and Bungie is wasting no time ensuring fans get a good look at what's to come before the game officially drops in September. A brand-new trailer showing competitive multiplayer was just released, featuring footage of the game's upcoming 4v4 player-versus-player battles and some of the mayhem that comes from pitting players against each other in such a manner.
Destiny 2 PvP trailer: Classes and rethinking the Crucible
The trailer, narrated by the game's character Lord Shaxx, shows off the three main classes — Titan, Hunter and Warlock — as well as which of their abilities you can use to play your best game. This new multiplayer approach stems from Bungie game director Luke Smith's statement back in May regarding changing things up in terms of multiplayer going forward. Smith said the team wanted to go back and rethink the Crucible "from first principles."
The changeover, which reduces multiplayer to smaller team battles, should do wonders for what some felt was an occasionally meandering multiplayer mode.
Destiny 2 drops Sept. 6 for PlayStation 4 and Xbox One players, though it won't be out for PC players until Oct. 24. Previously, players were able to check out what was available in the game with a special beta period. It's shaping up to be a worthy successor to the original game.
We'll be covering Destiny 2 after launch, so we'll bring you all things Destiny and more as additional information surfaces.
More gaming news and updates
Check out the latest from Mic, like this deep dive into the cultural origins of Gamergate. Also, be sure to read this essay about what it's like to cosplay while black, a roundup of family-friendly games to play with your kids and our interview with Adi Shankar, producer of the animated Castlevania Netflix series.