For black America, it's already too late for an NFL team to sign Colin Kaepernick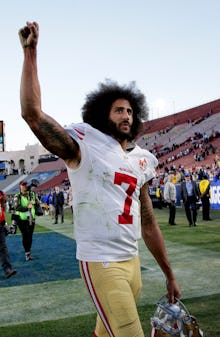 Technically there's still time left for an NFL team to pick up Colin Kaepernick — the polarizing, socially conscious free agent quarterback — before the start of fall football season.
But for Kaepernick supporters like Vic Oyedeji, it's already too little, too late.
The 32-year-old Oyedeji is the black Houston native and die-hard Texans fan who started a rapidly-growing petition in July to boycott the NFL if Kaepernick doesn't get signed to a team soon.
Like many black NFL fans, Oyedeji grew up rooting for black quarterbacks like hall-of-famer Warren Moon, Michael Vick and Cam Newton, in addition to Kaepernick. He was looking forward to seeing what Texans' first-round draft pick Deshaun Watson would do as QB this season with a healthy J.J. Watt and Jadeveon Clowney anchoring the team's defense.
That all changed a few weeks ago after multiple NFL teams passed on signing Kaepernick in favor of his former back up and even arena football leaguers, appearing to black ball the former Super Bowl starter for reasons Oyedeji and Fox Sports broadcaster Skip Bayless believe have nothing to do with football.
"Even if Kap does get signed, I won't be watching the NFL," Oyedeji said in an interview on Wednesday. "What the owners have done with Kaepernick, that really leaves a bad taste in my mouth. That just makes me see the NFL in a whole different way."
"I personally don't plan on watching football again for a very long time," he added.
It's been reverse déjà vu in the making for the NFL all summer, with Kaepernick supporters, rather than Kap haters, vowing not to watch America's favorite pastime this fall.
In 2016, during the heat of a politically polarizing presidential election, Kaepernick risked his multimillion-dollar football career to stand up (or sit actually) against police brutality by ultimately kneeling during each of his team's pre-game national anthem performances.
It was a bold political statement responding to ongoing, high-profile, excessive police force cases in America, which disproportionately affect black people. Kaepernick emphatically noted why he was protesting on multiple occasions.
Yet the QB's highly-publicized actions apparently alienated a core constituency of conservative white NFL fans and the NFL's virtually all-white team owners, who saw the league's TV ratings dip even as Kaepernick's selfless act earned him a spot on the cover of Time magazine.
And his jersey sales soared.
Now, it seems, by blackballing Kaepernick for potentially hurting their business, NFL owners have potentially damaged their collective brand by inadvertently, or perhaps deliberately, taking a side in the nation's ongoing, tumultuous political culture war.
The 2016 admiration and hatred of Kaepernick in many ways mirrors recent anti vs. pro-Trump, and anti vs. pro-Black Lives Matter political divides.
But today, instead of conservatives tuning out the NFL over Kaepernick, progressive fans, many of them black, who support Kaepernick's message are targeting the league and its sponsors with boycott pledges and protests.
Rev. Cassius Rudolph's People's Consortium is one of the groups organizing the pro-Kaepernick United We Stand rally outside NFL headquarters in New York on Aug. 23.
More than 2,000 people have expressed interest in attending the event, which has received additional support from director Spike Lee and other pro-Kap celebrities on Twitter.
"We do support boycotting the NFL," Rudolph said in an interview on Wednesday. "Even if he gets signed before Aug. 23, we're still going to [rally]. We have to let the folks know it's more than the NFL."
Rudolph joined Skip Bayless' Aug. 7 call for other NFL players to refuse to play week one unless Kaepernick is signed.
"The NFL is made up of a majority of our black brothers," the Chicago reverend said. "If they all took a stand and said, 'Let's go,' to the commissioner, it would show some sign of solidarity that these guys are serious."
While some NFL players like Seattle Seahawks cornerback Richard Sherman and Seahawks defensive end Michael Bennett have spoken out vocally in support of Kaepernick, others like retired Baltimore Ravens linebacker Ray Lewis have avoided full-throated support, earning ridicule from the likes of Hot 97 radio personality Nessa Diab, who is also Kaepernick's girlfriend.
Whether or not NFL players decide to strike in support of Kaepernick is ultimately irrelevant at this point to Rudolph. By silently ostracizing the QB, the NFL has already made a loud statement on how it sees black fans, its predominately black players, and black America in general.
"If a team decides to hire Kap tomorrow, that won't be enough," Rudolph said. "What else is the league going to do to help black people? They're part of the system as well and they can do things to help address the problem."