North Korea says "only absolute force" can work against Trump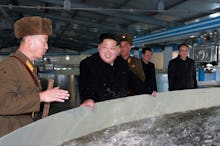 On Wednesday, North Korean officials continued to level up the nuclear rhetoric against the United States, calling comments by President Donald Trump a "load of nonsense," the Associated Press reported.
According to the AP, the officials further noted that "only absolute force" can work on someone as "bereft of reason" as Trump.
Moreover, the officials stated that they will have a plan in place to attack Guam, a small island territory home to at least 6,000 active military members and 165,000 civilian residents, by mid-August. The official called the plan the "historic enveloping fire at Guam."
Once the plan is complete, the official said, they will wait for their commander in chief, Kim Jung Un, to give the green light.
The official also stated the country will be keeping a close watch on the behavior and speech of the United States.
Prior to these threats, Robert Wood, the U.S. ambassador to the U.N.'s Conference on Disarmament, told the AP that he urged North Korea to "end its threatening behavior."