SPLC releases alt-right guide for college students worried about hate speech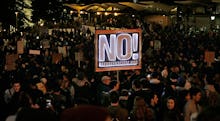 The Southern Poverty Law Center, a civil rights group known for combatting hatred, on Thursday released a guide on alt-right provocateurs, who may be planning speaking engagements and disruptions at liberal arts college campuses this fall.
The guide, shared first with Mic, will be distributed to students on more than 2,400 campuses around the U.S., including historically black colleges and universities, a SPLC spokesperson said. The guide contains profiles on prominent alt-right activists, such as Richard Spencer, Milo Yiannopoulos and Matthew Heimbach, who regularly speak out against multiculturalism, the Black Lives Matter movement and transgender rights. It also links the alt-right movement to former Breitbart News executive Stephen Bannon, who currently serves as a chief strategist to President Donald Trump.
These activists' speaking engagements sparked protests and violence among supporters and protesters throughout the 2016-2017 school year. To some success, Spencer, Yiannopoulos and others have argued that university officials who attempted to cancel their events were infringing on their free speech rights.
"They claim that 'white identity' is under attack by multicultural forces using 'political correctness' and 'social justice' to undermine white people and 'their' civilization," the guide, titled "The Alt-Right on Campus: What Students Need To Know," states. "College campuses are clearly on the frontline of the alt-right's battle against multiculturalism. They are targeted for a simple reason: They embrace diversity, tolerance and social justice."
"As student activists, you can counter this movement," the SPLC asserts in the guide.
The civil rights group says students who are concerned about tolerance for hate speech should proactively meet with groups targeted by the alt-right speakers. They should ask administrators to denounce hate, even as officials state their support for freedom of speech, according to the guide. Students should also organize counter-protests or gather in places away from the alt-right events.
But students should not seek confrontations with alt-right speakers or supporters, the SPLC said. In February, protests erupted around Yiannopoulos' "Dangerous Faggot" speaking tour, which College Republicans brought to the Martin Luther King Jr. Student Union at the University of California, Berkeley. The event was called off and police evacuated Yiannopoulos, after demonstrations outside of the venue turned violent.
The guide isn't about perpetuating the idea of the snowflake, a term alt-right activists have used against students who seek safe spaces from socially conservative ideals and hate speech, Lecia Brooks, the SPLC's outreach director, said in an interview with Mic. It's about standing up for historically marginalized groups whose presence on higher learning institutions symbolizes social progress.
"We're called upon to make a strong statement against hate, but we also want every student to recognize the importance of free speech," Brooks said in the interview. "We don't oppose conservative political thought. We oppose messages of hate that vilify minorities."
The guide is part of the group's SPLC on Campus initiative, which has launched on 33 campuses in the U.S. Beth McDaniel, a leader of the SPLC club at Auburn University in Alabama, said the guide was needed when students there opposed Spencer's visit in April. University officials tried to prevent Spencer's appearance. But a federal judge reversed the decision on the grounds that a cancellation infringed on Spencer's First Amendment rights. There were protests and some arrests outside of the event.
"There were so many reactions to how to approach opposing Spencer, that there was infighting among student activists," McDaniel said in a phone interview. "They ended up not being able to achieve the end goal."
The guide will help students think more strategically about how they stand up against alt-right hate speech, McDaniel added.
"There needs to be more ongoing discussion about these issues," she said. "Richard Spencer is just one figurehead. He left, but the mentality didn't leave with Richard Spencer. It's not likely it's just going to dissipate in the near future, so it's about helping students discuss and see different perspectives."