As tensions with North Korea escalate, here's what 6 people in Guam are thinking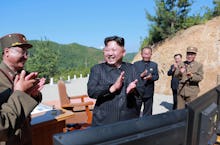 Over the course of just a few days, President Donald Trump and leadership in North Korea have traded barbs back and forth, with Trump threatening North Korea with "fire, fury and frankly power the likes of which this world has never seen before."
The escalation did not stop there, however. North Korean officials responded with a statement that the country is working on a plan to attack the U.S. territory of Guam; Trump surmised his previous threat "wasn't tough enough."
On Friday morning, Trump continued the war of words, tweeting to warn North Korea that U.S. "military solutions are locked and loaded."
Mic spoke to six people from Guam about how they felt about the back and forth rhetoric and the threats against their island and if they actually felt frightened at the potential of nuclear war with North Korea.
Sen. Louise Borja Muna
"I am confident in the security that our military forces on Guam have planned in any event," Louise Borja Muna, one of Guam's senators, said via email.
"It is a natural reaction from constituents to feel anxiety but I encourage them to be vigilant and prepared, but remain calm and have confidence in our security forces to inform us and keep us updated."
Nick*
"I'm not scared of the nukes, I'm annoyed at the media and local government," Nick, who asked to only be identified by his first name out of fear of retribution, said in an email. "CNN is using graphics that exclude locals, claiming only a couple thousand civilians are at risk.
"Our governor is saying we are prepared when there is no plan that we know of except to pray and trust the military (who by the way abandoned us during WWII). The U.S. is making threats and putting us in harm's way again."
Nick said his own grandparents were POWs, adding that his own family and the people of Guam have "sacrificed too much" to be treated this way again.
"So now we all just talk about plans, remembering where our grandparents hid the last time the bombs dropped, and thinking about preparing even though it would be futile," he said. "They call us 'the tip of the spear' because that's the part that gets blunted. I'm not totally sure the U.S. wouldn't sacrifice us again, to be honest. I hope not, but y'all don't even think we are American, so I'm a bit uneasy. "
Sen. Michael F.Q. San Nicolas
"The personal safety of the people of Guam is no more at risk yesterday than it is today, and into the future. Defensive systems are in place, they are effective and they are redundant," Sen. Michael San Nicolas said in a statement.
Nicolas added that the only new element is the actual "verbalization of a threat that has always existed, intended to frighten us and potentially harm our visitor industry — in effect hurting us through our economy by simply making threats."
He said Guamanians should remain strong and not allow the threat to frighten or deter them from their daily lives adding, "We must demonstrate in our resolve that Guam is not only safe, but fearless."
CJ Hattori
"I was born and raised on Guam and lived here for 18 years of my life before moving for college and visiting during the breaks," CJ Hattori, a college student now living part-time in California, said.
Hattori said "this is not the first time Guam has been threatened with remarks from DPRK," and recalled a class project he worked on about the THAAD missile defense system being installed on the island for their protection.
"Although I do have some concerns over the safety of the island, these 'threats' don't really bother me," he said. "I trust that the military's defenses between DPRK and Guam are adequate enough to stop any incoming ICBMs. The biggest concern I have would be the impact of such comments on our economy since it primarily revolves around tourism."
Speaker Benjamin J.F. Cruz
"Our people have been here for 4,000 years,"Sen. Benjamin Cruz said via email. "We are vigilant, but we don't surrender to fear. We join people throughout the world in praying for peace. And we urge the community of nations toward a diplomatic resolution of these tensions."
He also added the following.
"At our most basic level, the people of Guam are not so different from those in Pyongyang or Washington, D.C. We all want to keep our families safe, to leave behind something solid so our children can build something better.  I have to believe — I do believe — that this basic human reality will pull us toward peace even when it does not seem so certain."
Chris Barnett
"Over the last few years, we've seen Russian fighter jets flying in our airspace, China develop a 'Guam Killer' missile and North Korea issue threat after threat to our region and most recently, our island," Chris Barnett, a citizen of Guam, wrote in an email.
He noted that although the military maintains a large presence in Guam, its defense of a nuclear missile attack would primarily rely on the THAAD missile defense system, which Barnett said he is "leery of believing that since it hasn't been confirmed by any independent sources."
"I think the most anxiety-causing thing about this is having to answer my young children's countless questions about nuclear holocaust and how we could survive it," he said. "That being said, I don't like being caught between all the hot air being blown by President Trump and Pyongyang."
*Subject wished to be identified by first name only.
Aug. 11, 2017 8:50 a.m.: This story has been updated.