'Destiny 2' PC Beta Release Date: How the trial's multiplayer gameplay will change on computers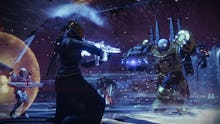 Destiny 2 fans planning on jumping into the game's PC beta don't have long to wait before they can sink their teeth in. With that in mind, Bungie is gearing up to drop some changes with said beta. These alterations were detailed in Bungie's latest weekly blog post, where Crucible design lead Lars Bakken took some time to discuss new matchmaking processes for both Quickplay and Competitive modes in-game.
Destiny 2 Changes: What to expect from the PC beta
Bakken stated that both Quickplay and Competitive matchmaking modes will receive separate updates. Quickplay will receive changes to its matchmaking algorithms that will encourage getting players assigned to matches a lot quicker than before. Instead of focusing on the skill of players and organizing matchmaking in that way, Quickplay will simply slot everyone into a match in the interest of speed and reducing wait times. It may not be the best mode to choose if you're not interested in playing the game with people who are way better at Destiny 2 than you, but it does guarantee you'll get into a match faster than before with the new Quickplay rules.
On the flip side, Competitive matchmaking will take a lot longer. This mode will ensure that you're matched more fairly with players closer to your skill level. In turn, that should improve the overall quality of the games. Where you might see more rage quitting and frustrating players in Quickplay, since it operates in a manner that facilitates speed, Competitive is more about nuance and giving players optimal game conditions.
In addition to these major multiplayer adjustments, Bungie has implemented a long list of fixes, such as the resolution of several glitches. Namely, bugs that offered infinite grenades, "gliding" for Warlocks and infinite Super attacks were squashed. Further, grenades were tweaked to do more damage in PvE mode, Supers' recharge times were lowered, and there was an increase in Power Ammo drops for PvE. You can check out a full list of changes here.
Destiny 2 is releasing on October 24 for PC after it first touches down on consoles on September 6. The PC beta is currently slated for August 28, so you've got a little while to go before you can test out all these changes.
More gaming news and updates
Check out the latest from Mic, like this deep dive into the cultural origins of Gamergate. Also, be sure to read this essay about what it's like to cosplay while black, a roundup of family-friendly games to play with your kids and our interview with Adi Shankar, producer of the animated Castlevania Netflix series.