Are expats in South Korea worried about Kim Jong Un and Trump? We asked them.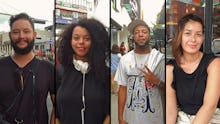 Tensions between North Korea and the United States are continuing to escalate, due to North Korea's intercontinental ballistic missile tests, President Donald Trump's statements about meeting such tests with "fire, fury and frankly power, the likes of which this world has never seen before" and North Korean dictator Kim Jong Un's threats to finish drawing plans to fire four missiles at Guam, where about 6,000 U.S. military personnel are based.
It may be unsettling to people in the United States (and certainly those in Guam), but immigrants and expats living in South Korea — which is widely expected to be the main target of any sustained North Korean military aggression — aren't necessarily packing their bags just yet. We asked a few of them on the streets of Itaewon (one of Seoul's most famous international districts) what they think about the possibility of a U.S.-North Korea conflict. Their answers have been condensed and edited for clarity.
Kéomony Say, 20, student from France
Are you worried about being here as tensions escalate between North Korea and the United States?
I'm a little bit worried to be here when we have a problem with Trump and North Korea, but I think war will not happen. I don't think [Trump] will attack. I think that the president of North Korea is just saying things. My friends are all worried. Trump is too aggressive, but North Korea is, too.
Have you thought about what you'd do if a conflict did happen here?
Maybe die. [Laughs.] I really don't know.
Kenneth Washington, 30, Entourage Seoul club promoter from Los Angeles
Are you ever worried about your safety here, given the situation with North Korea?
I never really pay attention to North Korea. I don't really think about it. My family worries and asks me when I'm coming home, but I tell them if something pops off, then I'll be on the first flight back. I got an exit strategy. I got some friends in high places, so I'll just make sure I'll be one of the first ones out when that bomb drops. Of course you have to have a contingency plan, just in case. Of course, I don't think about it and I hope nothing happens, but just in case, I'm prepared. I got an escape route, so I'll be okay.
Did you hear about Trump's "fire" and "fury" threat against North Korea?
I read about it. Trump, you know, he likes to fuck shit up I guess. I mean, what can I say? So, I mean, hopefully he's just talking shit, but if it does go down, then I feel sorry for some of my Korean friends. I mean, I don't really think it's going to happen — I think it's just politics and shit-talking, but you never know. All it takes is a button or a command. He's fucking shit up. I don't even want to go back to the U.S., just because of him. I'd rather go to another country than go back while he's president. That's just my personal opinion. I feel he's just dividing the country more, instead of just bringing people together.
Benedicte Rainsart, 27, cafe manager from France
What do you think about Trump's "fire" and "fury" threat against North Korea?
I didn't feel less safe when he said that — I don't really mind. I don't think anything he says will have a consequence on my safety. It can seem a little scary, but concerning South Korea, I'm not that worried.
Mohamed Siyam, 27, tourism agency worker from Saudi Arabia
Do you feel safe here?
I do. My clients, too, they really like it here, and they really think it's safe. They actually ask me if I'm worried about North Korea, but I tell them I'm not, because North Korea has been doing the same thing since I came here in 2012.
Have you ever been worried about your safety?
I was worried once, but my Korean teacher explained to us that we shouldn't be worried because South Koreans don't care at all, and North Korea has been doing that since I don't know when.
Do you know about Trump's "fire" and "fury" threat against North Korea?
Me and my friend were hanging out that day and we brought it up, and no one actually seemed to believe him. We thought it was just a joke or something — it wasn't something scary for us. I don't think he's serious.
Marima Telelim, 24, waitress from France
Are you worried about a conflict happening on the Korean peninsula?
If it happens, it happens. I can't do nothing about that. I'm not stressed. I'm just living with my life. I never thought about it, but if there was a war, I guess I would try to go back to France — or at least try to.
Feveuc Koszoru, 33, logistics manager from Hungary
Are you aware of Trump's threat of "fire" and "fury" against North Korea? What do you make of it?
I'm pretty sure America will finish quite quickly a conflict with North Korea. But I think a conflict will not happen.
Trump will lose his face if he does not do something when, for example, North Korea will try one more rocket test. And he's not that guy who wants to lose his face, so I'm sure he will do something and that this situation will escalate more. And if he doesn't do something, then I'm sure another country, like Iran, for example, will think, "Oh okay, we can make nuclear weapons as well because the U.S. won't actually do something." This was stupid — it was stupid for Trump say it, actually.
He's an idiot. I don't like him very much — he's really a stupid person.
Tatiana, 35, translator from Russia
Do you feel safe here?
Very safe, actually. North Korea just tries to scare us, but we're used to this, so that's okay. I'm not very worried about this.
Nemanja Micic, 31, hostel owner from Serbia
Do you have worries about tensions escalating on the Korean peninsula? Zero. The only thing that kind of makes me crazy about that whole geopolitical story between South Korea and North Korea [is] whenever they bring up the topic to my headlines, it could affect my business because I work in tourism, right? So then they could broadcast that to the other countries, that it's going to be World War III or whatever, so then people get so scared thinking like, "It's going to be a war in Korea, they're probably going to throw some bombs there."
So, you feel safe here?
I've been here five and a half years, and every year they have that same story brought up at some point, and it goes on for a few weeks — maximum a month — and then it goes back to normal. Koreans don't seem like they pay much attention to it, they're not saying like, "Oh, we're going to shelter now and take our money out of the bank," yeah? So I think that's just another story for, you know, for everyone to have something to read about. It's super safe.
Have you ever considered the possibility of a real conflict?
I mean, if there was really a war — like a real war — then I'd have to stay because I'm locked in with my business.
Daniel McClaughlin, 30, alcohol tourism business manager from Scotland
Do you feel safe here?
With the news and stuff at the moment — the kind of rhetoric and harsh language being used — it kind of makes people nervous. But it's a weird sort of worry feeling. It doesn't really impact daily life, but it's kind of a presence that's there and then again you kind of think like, "Maybe I should feel even more worried than I do," I guess?
What do you think about Trump's threat of "fire" and "fury" in North Korea?
Words have meanings. They have consequences. But, I feel that what he said was probably not very well thought out and misguided, it seems.
I've been here since 2009, and I always hear it — "They're going to bathe Seoul in a sea of fire," and all these kind of things. It's not that I've never heard this before, but it's the first time I've heard that coming from one of our allies. It doesn't surprise me that President Trump would say something like that, but it surprises me that someone in general from the West would say that from such a position of authority and responsibility.
Has there ever been a point you when you were concerned about conflict happening?
Certainly. Since I got here, there's been a few incidents. There was a ship that was sunk, I think in 2010, there was a bombing on an island around the same time, and there's been a lot of nuclear tests and missiles and stuff. These things don't go unnoticed — people do read it and hear it in the news — but no one really acts any differently because of it. Everything is kind of business as usual. People are more concerned about their lives, their work and what they're doing on the weekend.