President Trump says he's not ruling out a military option in Venezuela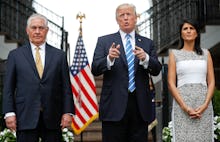 On Friday President Donald Trump told reporters at his New Jersey golf club that he has not ruled out the possibility of military intervention in Venezuela in response to the country's ever multiplying issues.
"We have many options for Venezuela. And by the way, I am not going to rule out a military option," Trump said while standing next to U.S. Ambassador to the United Nations Nikki Haley and Secretary of State Rex Tillerson. "This is our neighbor. You know, we are all over the world and we have troops all over the world in places that are very, very far away. Venezuela is not very far away and the people are suffering, and they are dying. We have many options for Venezuela, including a possible military option if necessary."
As Politico reported, the U.S. Treasury Department has already hit Venezuela with a series of sanctions targeted at Venezuelan President Nicolás Maduro.
The department installed the sanctions against Maduro and seven others in response to what it calls "widespread human rights abuses."
The department also took issue with a newly installed legislative body known as the "constituent assembly," which is made up entirely of allies of Maduro's party tasked with re-writing the South American country's constitution, Reuters reported. The new constitution is expected to give Maduro's party even more power.
Trump did not indicate if a military option would be lead by U.S. troops.
Beyond Venezuela, Trump also told reporters he will speak with Chinese President Xi Jinping on Friday evening via phone about the mounting tension with North Korea, CNN reported.
"Lots of good things could happen and we also could have a bad solution," Trump said when asked about the intense rhetoric between the U.S. and North Korea over the last week.
"You know what I can say, hopefully it will all work out," Trump added. "Nobody loves a peaceful solution better than President Trump, that I can tell you. But this has been going on for many years, would have been a lot easier to solve this years ago before they were in the position they are in. But we will see what happens."