Judge tosses DJ's lawsuit against Taylor Swift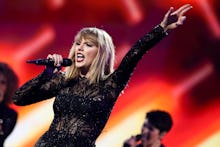 U.S. District Judge William Martinez threw out a lawsuit filed by radio DJ David Mueller against Taylor Swift on Friday. According to Martinez, Mueller failed to deliver evidence that Swift was personally responsible for getting him fired, USA Today reported.
The two have been locked in a war of words and lawsuits since Swift accused Mueller of groping her during a backstage meet-and-greet in 2013. Mueller was fired just two days after the alleged incident.
Mueller immediately denied the allegations and set out to sue Swift, her mother and their radio handler Frank Bell for $3 million as compensation for his now-ruined career, the Associated Press reported. Swift countersued the DJ for just $1.
"He stayed attached to my bare ass-cheek as I lurched away from him," Swift said during her court testimony. "It was a definite grab. A very long grab."
Swift's testimony in the trial has become largely celebrated by fans across the world and by sexual assault survivors. As Mic previously reported, only an estimated 1 in 3 sexual assaults are reported to the police, according to the Rape, Abuse & Incest National Network. The most commonly cited reasons for staying quiet include fear of retaliation, belief that authorities won't do anything to help and the desire to keep a personal matter personal, which is something Swift herself testified to. Swift told the jury she refused to halt the event after the incident so she wouldn't disappoint the several dozen fans waiting in line.
However, now four years older and wiser, Swift made it clear during the trail that she would not sit idly by.
"I'm not going to allow you or your client to make me feel in any way that this is my fault," Swift said. "Here we are years later, and I'm being blamed for the unfortunate events of his life that are the product of his decisions — not mine."
But the fight isn't completely over as Mueller's suits against Swift's mother and Bell will continue next week. Swift's countersuit against Mueller is also ongoing. According to USA Today the jury is expected to return and hear instructions and closing arguments in that suit on Monday.