New Trump tweet scolds "fake news media" for reaction to his latest statement on Charlottesville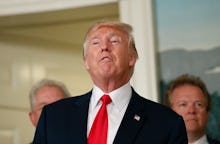 Just six hours after President Donald Trump made an unscheduled appearance to condemn the racist violence at Charlottesville, Virginia, on Saturday, the president took to Twitter to blast the media for its reaction to his rebuke.
"Made additional remarks on Charlottesville," Trump tweeted on Monday evening. "And realize once again the #Fake News Media will never be satisfied ... truly bad people!"
It was not immediately clear from the president's tweet whose coverage of his presser brought him such displeasure. Headlines from the usual targets of Trump's invective — the New York Times and CNN — proffered straightforward reporting on Trump's latest public appearance to address the racist display of white supremacist violence at the "Unite the Right" rally on Saturday that resulted in a fatal car attack which killed Heather Heyer, a 32-year-old paralegal.
The president's dissatisfaction with unspecific targets in the media echoed concerns voiced by an unnamed White House aide to the Daily Beast.
When asked by the Beast why the president would not be taking a trip to Charlottesville, the aide explained that the media would "use against him" whatever the president said or did.
Trump's Monday press conference appeared to be the result of mounting pressure for the president to specifically condemn white supremacy — and the various hate groups in the country who perpetuate it in its most bald-faced form — by name.
"Racism is evil," Trump said after a weekend of backlash to the remarks he gave immediately following Heyer's killing. "And those who cause violence in its name are criminals and thugs — including the KKK, neo-Nazis and other hate groups."
It was, to some, a far cry from the president's Saturday statement, where he blamed "many sides" for the violence at the white nationalist rally in Virginia.
"We condemn in the strongest possible terms this egregious display of hatred, bigotry and violence on many sides, on many sides," Trump said at a press conference on his golf course. "This hate and division must stop, and it must stop now."
His Saturday statement, which failed to specifically rebuke the neo-Nazis and other various white supremacists groups at the Charlottesville rally, drew the ire of critics on either side of the political aisle.