Back-to-school deals: How to save money on your last-minute shopping — even if you're not a student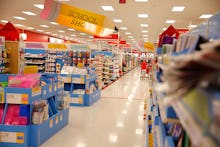 If you aren't quite ready to trade your swimsuit for a spiral notebook, maybe some sweet deals will ease the back-to-school blow. Back-to-school spending is expected to reach $83.6 billion this year, with college students and their families spending an average of $969.88 and parents of younger school-aged children shelling out an average of $687.72 on everything from electronics to lunch boxes. But that doesn't mean you need to bust your budget to buy everything on your list.
In fact, if you've put off back-to-school shopping until the last minute, you're in luck, as some of the best deals are happening right now. "A typical back-to-school basket costs about 40% less in September than in mid-August," Kaitlin Seders, senior marketing analyst for the Ibotta shopping app, said in an email interview. "Retailers have to move inventory after the back-to-school rush in August, so whatever is left over drops in price."
Even if you're not a student, you can find bargains on many of the same things parents are buying for their kids. "Some of the best items to buy during back-to-school season are small appliances like coffee machines, eyewear, fitness apparel, musical instruments, computers, backpacks and office supplies," Ana Serafin Smith, National Retail Federation's senior director of media relations, said.
How to save the most money? Buy clothing and electronics online but shop for supplies in-store, Lindsay Sakraida, director of content marketing at shopping-comparison website DealNews, said in a phone interview. You can also use coupon codes and apps to maximize savings through sites like Coupons.com and the Krazy Koupon Lady and cash-back apps like Ibotta and BeFrugal.
Here are the the best sale items to keep an eye out for:
1. Electronics
With the rush of college kids buying new laptops and iPhones, September is a great time to score deals on tech products. For example, Best Buy is offering up to $150 off select HP computers plus an extra $100 discount for students, bringing the price of an HP Envy laptop down to $629.99. Meanwhile, MacBook Airs are going for as little as $774.99 with the same student discount. For an even deeper discount, take up to 90% off refurbished laptops and speakers during Tech Rabbit's back-to-school sale.
If you're in the market for a new phone, you can save up to $150 on a Samsung Galaxy 8, plus an additional $150 off with your trade-in for a final price of $424.99. Dig the iPhone? Target is giving away $100 gift cards if you buy an iPhone 7 or iPhone 7 Plus. Staples is taking $40 off select iPads (for a final price of $289), or you can go with a refurbished tablet and get almost $100 off the iPad 3 Mini 3 Retina at Jem Jem for a final price of $253.99.
Lastly, Apple is giving away a free pair of wireless Beats headphones (normally priced at $299.95) when you buy a Mac or iPad Pro.
2. Clothes
Clothing is one category where you may not want to wait until the very last minute to shop — the selection of sale items will be much more limited, since many shoppers will have already picked through the sale racks. "For the items you really want, shop before Labor Day," Sakraida advised.
Right now, you can up to 80% off select summer clothing at H&M and up to 70% off at Kohl's. Meanwhile, American Eagle, Old Navy and Sears are all offering up to 50% summer styles. For fun t-shirts, check out Busted Tees, where you can buy shirts for as low as $8, plus add coupon code FCKQHNP to take 50% off regularly priced shirts. And for school uniforms, Target is taking 25% off with the promo code UNIFORMS.
This is also the perfect time to restock your swimsuit collection. Land's End is slashing prices on men's and women's swimwear up to 60%. And Nordstrom is taking 40% off select women's swimsuits and up to 50% off select men's swimwear.
When it comes to shoe deals, you can get 20% off athletic footwear at Dick's Sporting Goods if you shop online. For a wider variety of styles, head over to Shoe Carnival, where you can buy one pair, get another pair at half price, plus an additional $10 off using code NEWSPIN.
3. Backpacks
Choosing the right backpack is a personal choice you'll need to make based on style, utility and school policy; for example, some schools don't allow rolling backpacks.
If you're shopping for your kid, make sure the backpack isn't too big for their size. From personal experience, I found shopping in a store to be more helpful because it allowed me to both assess a product's material and durability as well as fit. Generally, you can shop in-store to find the right one and then compare prices online.
If durability is a priority, check out L.L. Bean, which is offering 20% off backpacks and kids clothing using promo code KIDS20. Meanwhile eBags is another retailer offering up to 80% off hundreds of styles for both children and adults. You can also search clearance backpacks at High Sierra, with many slashed up to 50%. Save an additional 50% on clearance items using coupons code CLEAROUT. Some of the best deals are at Walmart, where backpacks sell for an average of $19.69, according to data shared by email from price tracking company Earny.
4. School and office supplies
If you don't mind shopping at the last minute, holding off on school supplies until the day before or even after school starts can pay off big time. "The best time to shop for generic school supplies such as notebooks, pens and pencils, loose-leaf paper or binders is right before school starts," BeFrugal founder and CEO Jon Lal said in an email interview. "The longer you wait, the more prices will drop as stores try to clear their shelves of inventory."
You can save up to 50% on office and school supplies at eBay, or if you prefer to hand-pick your items, Staples is offering 15-cent and 50-cent deals in store — which means you can score items like glue, lined paper and staples for just 50 cents apiece. Pay only 25 cents for 70-page wire-bound notebooks at Walmart, or hit up Office Depot for 30% off your $30 online purchase.
5. Dorm room essentials
Leaving for college or moving into a new apartment? While it may be tempting to basically "buy everything," it's smarter to stick to the essentials.
"Most students bring too much stuff. Too many clothes, shoes, and comfort items," Mike Glowacki, assistant to the director of resident life at the University of Maryland, told Consumer Reports. "Parents want to have their children ready to go. But think of everything your child needs and cut it by 25% or so." Things to skip include an iron, expensive bedding, extra sheets and an alarm clock.
Extras you may want to buy include a mini-fridge, microwave and basic kitchen supplies, like a can opener and a pan for making easy meals. If you have a roommate, communicate about the items you are bringing and consider splitting the cost on things you both plan to use.
Where can you get the best deals? Target has bath towels starting at $2.50 and shower caddies for as little as $4. Back-to-school deals from Ikea include a neat clamp-on spotlight for $12.99 and a compact drawer unit for $14.99. Be sure to check out eBay, where you can save up to 70% on bedding, organizational systems, decorations and more. And if you get to school and realize you forgot something, Walmart offers free two-day shipping on all dorm essentials.
Lastly, if a morning cup o' Joe is part of your daily routine, check out Macy's coffee maker sale, where a Keurig K55 Classic Brewing System is selling for $71.99 using the coupon code SUPER. You'll find even better deals at Amazon, where a Vremi Single-Cup Coffee Maker, complete with travel mug, has a final price of $27.99.
And now that you're fully stocked up, there's nothing left to do but grab your backpack and get ready for the first day of school.
Sign up for the Payoff — your weekly crash course on how to live your best financial life.