'Call of Duty: WWII' Beta Release Date: How to try the private multiplayer demo and what it includes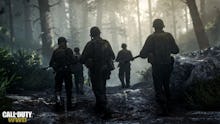 Call of Duty fans all over the world are likely looking forward to dipping their toes into the first beta test for the upcoming Call of Duty: WWII, and it's coming very soon. Sledgehammer Games has come forward with exactly when and what to expect from the private multiplayer beta, which comes to PlayStation 4 players who preordered the game first on Aug. 25.
If you're interested in getting into the game, here's what you can expect to see in the beta. Unfortunately, right now the only way to get into the PlayStation 4 private beta is to have preordered Call of Duty: WWII, so make sure you go and do that if you like what you see.
Call of Duty: WWII Beta Release Date: Everything included in the private multiplayer beta
You'll get three multiplayer maps to explore: Ardennes, Pointe Du Hoc and Gibraltar. As far as what mode you'll be playing in, expect the ol' standard Team Deathmatch, Domination and Hardpoint — all Call of Duty mainstays. These are the only three maps and three game modes available for now, but there will obviously be more when the full game arrives. Most importantly, you'll get a chance to check out the War mode, which is new and unique to Call of Duty: WWII.
War mode was developed by Sledgehammer Games and Raven Software. It allows for play in an Allied vs. Axis fight in the village of St. Lo, France. There haven't been many additional details spilled on what all that entails just yet, but it looks like an intriguing riff on the normal game modes.
You'll also get to check out the new divisions, which will replace the original create-a-class system introduced in Call of Duty: Black Ops 2. Instead of selecting 10 different traits to scatter across your recruit, divisions will allow you to choose the Infantry, Airborne, Armored, Expeditionary or Mountain Division, each with their own unique sets of skills regarding combat and weapons.
You won't get to see much of the new Headquarters mode for social or supply drops and loots during the beta, but you'll get a taste of what really matters in terms of what the game has to offer. So it should be a pretty useful trial period. The demo begins on Aug. 25, and only PlayStation 4 players are invited for now. An Xbox One beta will begin on Sept. 1.
Call of Duty: WWII releases on Nov. 3 for PlayStation 4, Xbox One and PC.
More gaming news and updates
Check out the latest from Mic, like this deep dive into the cultural origins of Gamergate. Also, be sure to read this essay about what it's like to cosplay while black, a roundup of family-friendly games to play with your kids and our interview with Adi Shankar, producer of the animated Castlevania Netflix series.