'Sonic Mania' Secrets: How to unlock the meme-tastic "& Knuckles" bonus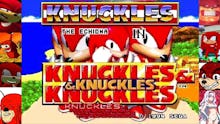 Sonic Mania is an excellent callback to everything that made the original Sonic platformers great. If you're a fan of the blue hedgehog, you're likely going to want to pick it up. As an added bonus, the creators of Sonic Mania have packed the game with fan-focused extras, including a secret bonus level that's a callback to a meme fans had been tossing about for quite some time.
We're talking about the "& Knuckles" bonus mode, which you can unlock rather easily if you're interested in doing so. Here's what you need know about the secret level in Sonic Mania.
Sonic Mania: What is '& Knuckles' mode?
Ever since the release of Sonic 3 & Knuckles, which was originally an expansion for Sonic the Hedgehog 3, it's been a bit of a goof for fans to append "& Knuckles" onto things that don't really make much sense — like store signs, games, movies, songs and basically anything they could get their hands on.
In "& Knuckles" mode, you can have Knuckles follow you around just like Tails. In fact, you can play as one of several duos, including Tails & Knuckles or even Knuckles & Knuckles.
Sonic Mania: How do you unlock '& Knuckles' mode?
If you're interested in checking out this silly love letter to classic Sonic fans, all you need to go is complete all of the bonus stages in-game. These are denoted by blue spheres, so don't confuse them with the Chaos Emerald stages.
You'll find them scattered about the game here and there, and you can play various mini games, awesome new modes and even a special Puyo Puyo stage. Once you've finished enough of these blue spheres, "& Knuckles" mode will open up and you can play the game with two Knuckles.
More gaming news and updates
Check out the latest from Mic, like this deep dive into the cultural origins of Gamergate. Also, be sure to read this essay about what it's like to cosplay while black, a roundup of family-friendly games to play with your kids and our interview with Adi Shankar, producer of the animated Castlevania Netflix series.