Former KKK grand wizard David Duke thanks Donald Trump on Twitter following Trump Tower speech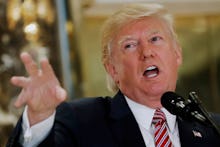 On Tuesday, David Duke, the one-time leader of the Ku Klux Klan, tweeted his support for President Donald Trump's statements on the "alt-left" during an off-the-rails Trump Tower press conference.
"Thank you President Trump for your honesty and courage to tell the truth about Charlottesville," Duke tweeted, adding his praise for what he saw as the president's bravery in condemning the "the leftist terrorists in BLM/Antifa."
The social media shout out from Duke came just moments after the president made a stunning statement during a scheduled appearance from Trump Tower in New York City, which was meant to focus on his announcement of an executive order gutting restrictions on the federal infrastructure permitting process.
When asked about Charlottesville, President Donald Trump went off-script saying, "What about the alt-left that came charging at the, as you say alt-right? Do they have a semblance of guilt?" The president added, "What about the fact that they came charging with clubs in their hands? Do they have a problem? I think they do."
Trump additionally told the press that there were "very fine people on both sides."
As for taking three full days to comment on the violence in Charlottesville Trump defended his timing, telling the media, "I didn't wait long. I wanted to make sure unlike most politicians that what I said was correct and not make a quick statement. It was a fine statement." He added, "I didn't know David Duke was there. I wanted to see the facts."
This isn't the first time Duke has publicly come out to support Trump.
On Trump's inauguration day, Duke posted a tweet which appeared to take some credit for his presidential win, saying "We did it! Congratulations Donald J. Trump President of the United States of America!"