Weather experts say to expect a busier-than-usual Atlantic hurricane season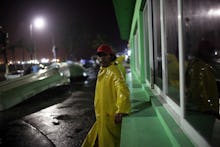 Hurricane Gert became the second named Atlantic hurricane of 2017 on Tuesday, about a week after Hurricane Franklin damaged communities along the Mexican coastline.
Now the National Oceanic and Atmospheric Administration's hurricane center says the ongoing summer-fall hurricane season will be even busier this summer than previously predicted.
In June, NOAA lead seasonal hurricane forecaster Gerry Bell said a higher-than-average 11 to 17 tropical storms would spawn in the Atlantic Ocean during 2017.
Now Bell says at least 14 to 19 tropical storms will be develop, five to nine of which will become hurricanes, two to five of which will become major hurricanes.
"The conducive atmospheric and oceanic conditions we thought would develop in May have in fact developed and are in place," Bell said Wednesday. "The wind shear is weaker than average across the Atlantic. The trade winds are weaker than usual. And the Atlantic Ocean temperatures are warmer than average. The conducive conditions that typically lead to more hurricanes are all there."
Around 10:30 a.m. Wednesday, Weather Channel forecasters said Hurricane Gert was moving several hundred miles off the coast of Bermuda.
The storm gained some strength after moving over the warm waters of the Gulf Stream, with developing wind speeds of about 90 mph, but it's only expected to generate waves that could impact the U.S. east coast and Bermuda.
Bell said Gert is expected to continue on its northeast track away from the U.S. Atlantic coastline.
"It looks like it's remaining out to sea," he said.
Fox News local affiliate WFTX in Cape Coral, Florida reported Wednesday that three new tropical waves — the precursors for tropical storms, which could become hurricanes — had emerged off the coast of of West Africa.
Forecasters will monitor the waves over the next five days to see if they'll become tropical storms.
The first tropical wave, known as Invest 91-L, had wind speeds of 20 mph and a 40% chance of further tropical development as of Wednesday, according to WFTX.
Invest 92-L, the second tropical wave, had similar wind speeds, but forecasters said it does not appear to be a threat to the U.S.
It's too early to tell whether the third and newest yet-to-be named tropical wave poses a potential storm threat, WFTX reported.
"Those African waves are the disturbances from which tropical storms and hurricanes form in August, September and October," Bell said. "Right now there's just three of them out there, but when you have a more active season like we're predicting more of those waves will develop into tropical hurricanes."
Above all else, Bell emphasized that the combined 80 million U.S. residents living in the nation's Gulf Coast and Atlantic regions need to prepare themselves for some potentially hazardous hurricanes throughout the fall.
"These [storms] can track inland and cause millions in damage and death," he said. "Now is the time they need to make sure you're prepared."