This is the best free thing to do in every state in America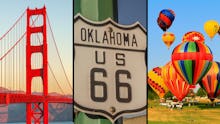 There's nothing like the feeling of doing something thrilling without ever opening your wallet. Whether it's hiking a trail to a hidden hot spring or taking in a free music show at a local hangout, zero-dollar fun helps you save your pennies for costs you can't avoid and stick to your budget without resorting to a life of all work and no play.
To find the best free thing to do in every state, Mic asked locals, polled our staff and studied every "best of" list we could find to uncover quirky, spectacular and just plain cool ways to entertain yourself in every state. Our picks range from can't-miss landmarks like the Portland Head Light to offbeat finds like the House of Cups in North Carolina. Some are smack in the middle of a big city, while others will take you on an unforgettable journey to the farthest corners of our country. All will fill you with awe.
While it was tough to pick just one free activity per state, each featured attraction offers something special that you won't want to miss.
Alabama
For a pointed lesson in the violent clashes that marked the Civil Rights era, walk through historic Kelly Ingram Park (also known as West Park), which served as an assembly point for numerous sit-ins, boycotts and marches led by Martin Luther King Jr. and aimed at ending segregation. Then walk across the street to the 16th Street Baptist Church, where the Ku Klux Klan set off an explosion that killed four girls in September 1963.
Alaska
Gaze at the Northern Lights from Cleary Summit.
Bask in the luminous glow of the aurora borealis as color and light dance across the atmosphere just outside Fairbanks at Cleary Summit. When particles are energized by magnetosphere, the magnificent aurora is produced. Best viewed in March at high altitudes, you need a clear, dark sky for an ideal experience.
Arizona
Every Saturday from 4 p.m. to 8 p.m., the classic cars of Scottsdale are proudly displayed at the Scottsdale Pavilions. Billed as "the largest consistently run car show in the United States," the weekly event features a D.J. spinning 1950's music, plus up to 500 cars and 150 motorcycles.
Arkansas
The Norfolk National Fish Hatchery releases 2.5 million trout each year to re-stock public Ozark streams. Kids and adults can watch the rainbow, brown and cutthroat trout swim in the 96 "raceways" where the hatchery raises them. Special events include the annual Hatchery Outdoor Adventure, where kids can fish on Dry Run Creek and tour the hatchery.
California
Many people have driven across this landmark bridge, which was opened in 1937 and spans 1.7 miles. But to fully appreciate its height (746 feet) and the stunning views of the Pacific Ocean and the city by the bay, you need to put on your walking shoes and take it in at a more leisurely pace, all while waving at the shipping barges and sailboats passing underneath the bridge.
Colorado
Want to get lost in nature without traveling to the ends of the earth? Discover the sculpted ridges, canyons and trails at the 1,474-acre Red Rock Canyon Open Space. Not to be confused with the much larger Red Rock Canyon in Nevada, this more intimate open space features red sandstone ridges known as "hogbacks" as well as stunning, eroded canyons. And unlike its more famous namesake further west, it's totally free.
Connecticut
Step inside the torpedo room of the USS Nautilus, the world's first nuclear submarine to go to the North Pole, at the Submarine Force Museum. Operated by the U.S. Navy and located on the Thames River, the museum serves as a vast archive of U.S. submarine history, with more than 33,000 artifacts, 20,000 documents and 30,000 photographs in addition to the famous submarine.
Delaware
Long before digital recordings existed, the world celebrated the Victrola, a brand of phonograph made by the Victor Talking Machine Company. Stocked with gramophones, recordings and memorabilia, the Johnson Victrola Museum serves as a tribute to Eldridge Reeves Johnson, who founded the company in 1901 and produced some of the most famous recording artists of the day.
Florida
Watch street performers at the Sunset celebrations in Key West.
"See you at sunset" is a popular call you might hear at dusk, as the sun begins its plunge into the Atlantic ocean in Key West. Nightly sunset celebrations began at Mallory Square in the late 1960's and the tradition continues today as tourists, locals, artisans, street performers, food carts and exhibitors gather to mark the sun setting into the Gulf of Mexico.
Georgia
Pay your respects to Martin Luther King Jr.'s legacy at his birthplace and grave in Atlanta.
Civil rights leader Martin Luther King is buried at the King Center, which his wife Coretta Scott King created in 1968 to honor the life of her late husband. The eternal flame in front of the crypt symbolizes "the continuing effort to realize Dr. King's dream of the 'beloved community,' which was his vision for a world of justice, peace and equality for all mankind." You can also tour Dr. King's birth home nearby at 501 Auburn Avenue, but need to make reservations on-site on a first-come, first-serve basis.
Hawaii
One of the best ways to see the breathtaking, lush Hawaiian landscape, the Road to Hana is an unforgettable adventure. The 52-mile journey will take you to a waterfall and fresh water pool at Pua'a Ka'a State Wayside Park, the black sand Pa'iloa Beach and the town of Hana itself. Even though seeing these attractions is free, you may want to bring a little cash, as picking up a loaf of the legendary banana bread is not to be missed.
Idaho
This refuge in northern Idaho is one of the top spots in the country to view nesting bald eagles in winter. It's great for other birdwatching too: In the spring and fall you'll see up to 220 species of birds in migration there, including Canada goose, northern pintail and tundra swan.
Illinois
Don't feed the lions at the Lincoln Park Zoo in Chicago.
One of the most beloved and oldest zoos in the country, the Lincoln Park Zoo hosts 3 million visitors a year and is home to 1,250 creatures, including gorillas, zebras and African lions. The zoo recently added penguin, polar bear and snow monkey habitats and plans to renovate its lion house next.
Indiana
Take a peek into Amish country, located just outside Fort Wayne. The tiny town offers true Amish culture, complete with horse-drawn buggies, Amish quilts for sale and a bulk Amish food store with baked goods. In September, the country fair features crafts, games, a parade and an apple pie baking contest.
Iowa
Take a selfie or better yet, grab your friends, relatives and casual bystanders to sit, gather and pose in front of what may be the world's largest frying pan. Located in Brandon, Iowa, the pan was built in 2004 to promote Brandon's semi-annual cowboy breakfast event. If the pan were put to actual use it could cook 528 eggs and 88 pounds of bacon.
Kansas
Walk through Monument Rocks in Gove County.
Gaze at the natural wonder of the chalk pyramids at Monument Rocks. The 70-foot tall monuments were formed approximately 80 million years ago, and you can investigate ancient fossils embedded into the rock, including fish bones, turtles and shark teeth.
Kentucky
Whiskey lovers won't want to miss the Oscar Getz Museum of Whiskey History, which contains artifacts and documents tracking the creation and development of the whiskey industry in the United States. Those include authentic moonshine stills, antique bottles and a special scale for weighing whiskey barrels. Bardstown is considered to be the "bourbon capital of the world" and is rich in history and home to a number of distilleries.
Louisiana
Stop in for a sip of rum at the Bayou Rum Distillery in Lacassine.
Get up close and personal at the largest privately-owned rum distillery in the U.S., where distillery tours take you through each step of the rum-making process: fermentation, distillation, maturation and bottling. See how the rums are handcrafted in traditional copper pots, using Louisiana cane sugar and molasses. After the tour, stop by the tasting bar to sample the final product.
Maine
One of the oldest and most cherished lighthouses in Maine, the Portland Head Light stands proudly above the jagged rocks and crashing waves of Portland Harbor and Casco Bay. On a clear day this historic working lighthouse has views of four other lighthouses.
Maryland
Want a bike path that feels like it goes on forever? Then check out the 184.5-mile Chesapeake and Ohio Canal, which actually runs from Washington, D.C., all the way up to Cumberland, Maryland. Located on the north bank of the Potomoc River, the first 20 miles of the unpaved towpath are the most popular and are a great place to start your ride.
Massachusetts
Witness free of charge where the first surgeries under anesthesia were observed in history at this beautifully preserved theater. Established in 1846, a doctor at the Ether Dome at Mass General was the first to successfully use anesthesia, then called ether, in a surgery for the public to watch.
Michigan
Shop for locally grown food at Eastern Market in Detroit.
What to do at this vast market? Smell the breakfast sausage from the Detroit Sausage Company or browse the selections from SMPLFD, a Detroit clothing and printing company. Then check out the farm fresh produce, flowering plants and local beer. Over 40,000 people visit the market on a typical Saturday.
Minnesota
Located in the heart of Minneapolis, this sculpture garden features eccentric sculptures like Spoonbridge and Cherry, now joined by a giant blue rooster by Katharina Fritsch, amongst many other works by Mark di Suvero, Jenny Holzer and Ellsworth Kelly. The garden recently added 18 new pieces, including Robert Indiana's Love and Eva Rothschild's Empire.
Mississippi
Watch the sunset over the Mississippi River at Natchez Bluff Park in Natchez.
After a day touring historic homes and exploring the Grand Village of Natchez Indians, treat yourself to a peaceful sunset at the best vantage point in town. Grab a blanket and park yourself at Bluff Park, overlooking the Mississippi River, for a sunset that cannot be missed.
Missouri
Grab your suit, towel and some sunscreen for your visit to Johnson's Shut-Ins, one of the country's naturally formed water parks. Pools and streams are created from rock erosion along the east side of the Black River, providing a unique swimming experience. Relax in one of the underground springs, but explore with care as some pools are extremely deep and weather conditions may influence the undertow.
Montana
One of the few sculpture gardens where you have to really look to find the works of art, the Archie Bray Foundation for the Ceramic Arts is on the National Register of Historic Places and houses hundreds of incredibly creative sculptures woven into the landscape. Take a free, self-guided tour to see if you can spot each work or make a game out of it to see who in your party can find the most sculptures the quickest.
Nebraska
Take a pit stop at Carhenge in Alliance.
Although not a natural wonder, Carhenge certainly is a wonder not to be missed. It brings the essence of Stonehenge alive through the use of "car art." The outdoor exhibit features a circle that contains three standing trilithons built with cars.
Nevada
Watch giant hot air balloons go up, up and away during the Great Reno Balloon Race, held Sept. 8 to Sept. 10. The largest free hot air balloon event in the world started in 1982 with 20 balloons and today hosts up to 100. The three-day party attracts an average of 120,000 guests each year.
New Hampshire
See some wildlife along Moose Alley in Pittsburg.
Although exploring nature in New Hampshire is always a treat, why not spice up your adventure with a moose sighting or two? Moose Alley, off of U.S. Route 3, north of Pittsburg, is one of the best areas to spot an actual moose, but you have to practice patience. Drive slowly, because many sightings are in the woods, and happen at dawn.
New Jersey
Watch migrating birds at Cape May Point in Cape May.
For one of the best birdwatching sites in the U.S., visit Cape May to observe the migratory birds pass between the Atlantic Ocean and Delaware Bay. Ideal viewing time is mid-August through November, when you can observe hawks, falcons, ospreys and more. While you're there, check out the Bunker at Cape May Point, an infamous World War II bunker situated directly on the beach.
New Mexico
Soak in the McCauley Warm Spring nestled in the Jemez Mountains near Jemez Springs.
The Battleship Rock trail in the Jemez Mountains not only offers great views, but you can also enjoy a dip in a warm spring along the way. Hike a bit further to the Jemez Falls trailhead, and you can see the highest waterfall in the area.
New York
Escape the city buzz while soaking up the breathtaking views and lush scenery riding your bike along the Manhattan Waterfront Greenway. This 32-mile path opened in 1993 and now covers much of the perimeter of Manhattan. Views are especially gorgeous at sunset on the West Side of Manhattan.
North Carolina
Who doesn't love a good mug? Or maybe 20,000 of them, nailed all over this adorable little house in Collettsville? Visitors have been making a pilgrimage to the home for about 15 years not only to view the anomaly but to add their own signature mug to the collection.
North Dakota
Take a selfie by a roadside sculpture along the Enchanted Highway in Regent.
If you're passing through North Dakota, take a break to stretch your legs and take a selfie with one of the unique sculptures and artworks along this stretch of 32 miles off I-94. You'll feel like Alice in Wonderland as you encounter giant birds, flying fish and a giant farm family. Designed by Gary Greff, who wanted to encourage tourism, these supersized creations provide a much-needed diversion as you make your way to your next destination.
Ohio
Honor the beauty of flight and the U.S. Air Force at this expansive museum crammed with history, artifacts and actual jets. In addition to taking a flight through history, you can also view the new space shuttle building, which contains a 204-foot Titan IVB rocket along with President John F. Kennedy's Air Force One.
Oklahoma
Stop in small towns along Route 66.
Get your kicks on Route 66 in Oklahoma City, which is where it all begins. At least 400 miles of Oklahoma adventure lie ahead, including Commerce (Mickey Mantle's hometown), Vinita (the oldest village in Oklahoma) and Claremore (Will Rogers' hometown).
Oregon
Considering Portland's nickname is the "city of roses," it's only fitting to take an afternoon to marvel at the endless array of roses at the historic International Rose Test Garden. Located inside Washington Park, the garden is home to more than than 10,000 magnificent roses and has a gorgeous view of Mount Hood in the distance.
Pennsylvania
After visiting the Liberty Bell and Independence Hall, continue the history tour along the nation's oldest residential street, Elfreth's Alley. Established in the 1700s, the historic street was designated a National Historic Landmark on Oct. 15, 1966. Catch a free tour of the museum house from 5 p.m. to 7 p.m. the first Friday of each month from April through October.
Rhode Island
Founded in 1836, the Athenaeum is considered one of the "world's most beautiful libraries." The library recently celebrated a record-breaking year for memberships, indicating that the written word is not dead. You can learn more about the library's rich history during a free drop-in guided tour.
South Carolina
Sit under the Angel Oak Tree on Johns Island.
Anyone visiting the Charleston area shouldn't leave without seeing the Angel Oak Tree on Johns Island. Known as one of the oldest living things in the country, the Angel Oak Tree is estimated to be nearly 500 years old, although some insist the tree is almost 1,500 years old.
South Dakota
Journey back to the old West, when a high noon shootout to settle a dispute was commonplace. Gunslingers are ready to take action throughout the day, but check the schedule so you can go early to claim your viewing spot.
Tennessee
There's always a show going on in Music City, and many won't cost you a dime. Catch a free outdoor concert at Jazz on the Cumberland or Musician's Corner through October. Next swing by the renowned Bluebird Cafe for their cover-free acoustic show at 6 p.m. for your chance at witnessing a star being born.
Texas
Also known as "Garage Mahal," the Art Car Museum is filled with art works created on cars, bikes and other unique modes of transportation. Admission is always free and the museum hosts a number of special free exhibits throughout the year, including Trump This! in September.
Utah
Get spooked by a ghost town in Cisco.
Tour the Utah ghost towns, sprinkled along the backroads and byroads across the state. While there are dozens of tiny ghost towns in the state, Cisco was the inspiration for Johnny Cash's "Cisco Clifton's Filling Station" and a setting in the film Thelma and Louise.
Vermont
Breathtaking, natural splendor awaits at what is considered to be the world's largest deep-hole, dimension granite quarry, one of the primary places where all things granite are created. Quarry depths plunge 600 feet, but the unknown exists beyond the depths of the water below.
Virginia
Visitors typically drop a bit of cash to tour the 18th century buildings in Colonial Williamsburg, but if you keep your explorations to commercial shops and the city streets, you don't have to spend a dime. You'll be highly entertained just wandering around, stopping by shops and taverns and viewing free outdoor entertainment like re-enactment actors firing cannons.
Washington
Yes, you really can take a free Sunday boat ride in an authentic wooden boat. The rides run every week, rain or shine, and sail around Lake Union for 45 minutes to an hour. Arrive early to make sure you get a spot.
West Virginia
Learn about the Mothman legend in Point Pleasant.
The Mothman legend began in 1966 when two local couples encountered a man-sized, winged creature that seemed to fly alongside their car. More sightings ensued and some believe the creature contributed to the collapse of a suspension bridge in December 1967, which killed 46 people. The legend is recognized with an imposing statue, and the annual Mothman Festival, held in September, commemorates the 1966 sighting.
Wisconsin
Learn about this 155-year-old brewery's rich history, then tour the facility itself. Highlights include the Miller Caves, where you can meet the brewmaster, Frederick Miller. And if you're over 21, you can enjoy free samples after the tour.
Wyoming
Carved into sandstone cliffs, the White Mountain Petroglyphs' include hundreds of figures — including horses, buffalo and warriors — that tell the story of some of the region's earliest inhabitants. You'll also find handprints, possibly left by the same artists who made these mysterious markings.
Washington, D.C.
One of the newest museums in D.C., the National Museum of African-American History and Culture is home to an assemblage of powerful artifacts, from slavery to emancipation and beyond. Those range from a whip used aboard slave ships to Nat Turner's bible. While you'll need a timed ticket to see the collection, it will be well worth the effort to see this unforgettable museum.
Sign up for the Payoff — your weekly crash course on how to live your best financial life.