Mark Zuckerberg on Charlottesville: Facebook will remove violent threats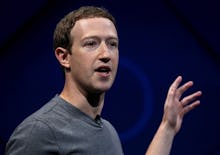 On Wednesday, Facebook founder Mark Zuckerberg joined the growing ranks of media moguls to openly denounce the actions of alt-right ralliers over the weekend in Charlottesville, Virginia.
In a message posted to Facebook, Zuckerberg said that while Facebook is a place for people to share varying viewpoints, it is not a place for hate.
"There is no place for hate in our community," Zuckerberg wrote. "That's why we've always taken down any post that promotes or celebrates hate crimes or acts of terrorism -- including what happened in Charlottesville."
Zuckerberg further explained that the social media site is "watching the situation closely and will take down threats of physical harm."
As the Verge reported, Facebook already deleted a hateful blog post targeting Heather Heyer, the 32-year-old woman who died at the rally after being struck by a car driven by an alt-right rally attendee.
"The last few days have been hard to process. I know a lot of us have been asking where this hate comes from," Zuckerberg added. "As a Jew, it's something I've wondered much of my life. It's a disgrace that we still need to say that neo-Nazis and white supremacists are wrong — as if this is somehow not obvious. My thoughts are with the victims of hate around the world, and everyone who has the courage to stand up to it every day."
Facebook now joins other tech giants including Google, Airbnb, GoDaddy, PayPal, Uber, Apple and more in banning both known racist users as well as cracking down on racist rhetoric online.
However, as the Guardian reported, while Facebook appears to be excelling at removing white supremacy groups, other categories of hate groups such as neo-Confederate, anti-Muslim and anti-LGBTQ pages remain on the social media site.
"There may always be some evil in the world, and maybe we can't do anything about that," Zuckerberg said in the closing of his post. "There's not enough balance, nuance and depth in our public discourse, and I believe we can do something about that. We need to bring people closer together, and I know we can make progress at that."