See 'Persona 3: Dancing Moon Night' and 'Persona 5: Dancing Star Night' in first screenshots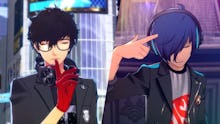 The upcoming Persona 3: Dancing Moon Night and Persona 5: Dancing Star Night are Persona 3 and Persona 5 game spinoffs — much like Persona 4: Dancing All Night, which previously released on PS Vita. Both take familiar characters from the Persona series and those unique to each game and thrust them into a pretty uncharacteristic setting where everyone's dancing for their life.
If it sounds strange for Persona characters, it is, but it's also amazing. There's a few new screenshots out as of Thursday that show what to expect from the upcoming games. Be forewarned: What you see might be too fast for your eyes. That's a little excerpt of the Persona 5 battle theme there.
Persona 3: Dancing Moon Night: First screenshots
The new screenshots show the main Persona 3 protagonist busting a stone-cold groove, which is pretty funny considering the dark tone and nature of the game itself. This is a role-playing game where kids hold guns called "evokers" to their heads to summon their Persona, after all.
I didn't know supporting character Junpei was much of a dancer either, but here he is, totally losing it on the dance floor.
Yukari can cut a rug, too, but we all already knew that. If she's half as good at dancing as she is being the worst character in Persona 3, we're good. Mitsuru for life.
Finally, Aigis gets a turn at shakin' it. Wonder which songs they're dancing to? It had better be "Burn My Dread."
Persona 5: Dancing Star Night: First screenshots
With the recent success of Persona 5 and its more adult scenes, it's fun to see the game's characters busting it out in their first spinoff title.
You've got Best Girl Ann Takamaki to dance with if you're not a fan of the protagonist. Ann deserves all the love anyway for dealing with her trash person of a teacher.
You too, Ryuji Sakamoto?!
And here's Makoto, stepping to the beat. Honestly, this is the best squad ever.
If you're not chomping at the bit to play both Persona 3: Dancing Moon Night and Persona 5: Dancing Star Night, something's definitely wrong. They're both due out for PlayStation 4 and PlayStation Vita by spring 2018, so that's plenty of time for you to nail down your dancing skills.
More gaming news and updates
Check out the latest from Mic, like this deep dive into the cultural origins of Gamergate. Also, be sure to read this essay about what it's like to cosplay while black, a roundup of family-friendly games to play with your kids and our interview with Adi Shankar, producer of the animated Castlevania Netflix series.