After Charlottesville, some Black Lives Matter activists prep for armed defense vs. the alt-right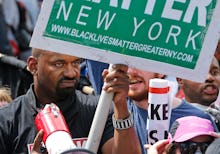 Advocates in the Movement for Black Lives generally don't bring weapons or use violence to defend themselves during demonstrations, but that appears to be changing, in part, thanks to the violence at a white supremacist rally in Charlottesville, Virginia.
Black Lives Matter Greater New York leader Hawk Newsome recalled the imminent danger he sensed in the historic Virginia town on Aug. 12 after a white supremacist allegedly chucked a large rock at his head, drawing blood.
The 40-year-old activist saw klansmen, neo-Nazis and militiamen wielding clubs, shields, shotguns and AR-15s as he stood across the street from Emancipation Park clinching a bullhorn in one hand and a protest sign in the other.
When more violence erupted amid the noisy chaos, Newsome said he and his crew of 10 men and women were forced to stumble blindly through clouds of mace and tear gas, swinging fists and whatever they could get their hands on to battle the heavily armed and armored white supremacists.
"If they would have decided to open fire, there would have been a massacre because we weren't armed," Newsome said. "I just don't think it's smart."
On Saturday, Aug. 26, Newsome said he and his fellow BLM activists, who are not part of the official 38-chapter Black Lives Matter network, will host their first self-defense training seminar along with other progressive organizations in the New York area, including antifa (antifascist) demonstrators.
Since the alt-right uses mace, clubs and even long guns at their demonstrations, Newsome said he and his allies must be prepared to use them as well — in self-defense.
"The objective is to organize a group of folks to keep us safe when we're in the street and especially when we're doing counterprotests against the alt- right," Newsome said. "What I envision is when we are in open carry states we will have people on our side with guns.
"It's not about us going out and fighting people. It's more about being able to keep our group safe when we're attacked. We will protect ourselves through any means under the law."
BLM vs. the alt-right
So-called alt-right demonstrators have been bringing weapons with them to conservative rallies across the U.S. since their first major confrontation with antifa counterprotesters at the March 4 Trump rally in Berkeley, California.
Black Lives Matter leaders in Boston, New York and Florida say BLM supporters nationwide have not previously been a major counter presence at these conservative rallies.
They've instead focussed their attention on addressing more institutionally racist issues, such as police brutality and mass incarceration.
But the Trump-inspired rise of white nationalists before and after Charlottesville is compelling more BLM activists to confront the alt-right directly.
In addition to allegedly killing Heather Heyer on Aug. 12, white supremacists have been arrested for targeting and murdering random black men like Timothy Caughman in New York and U.S. Army Second Lt. Richard Collins III in Maryland. Police say a third alleged white supremacist fatally stabbed Army veteran Rick Best and 2016 college grad Taliesin Namkai-Meche in Portland, Oregon, on May 26.
"Prevailing political realities have emboldened overt white supremacists to openly intimidate vulnerable communities," Boston organizer Monica Cannon wrote in an emailed statement before she and members of BLM Boston and BLM Cambridge participated in the Fight Supremacy counter protest against the organizers of the Aug. 19 Boston free speech rally.
"Those committed to anti-racism work have a moral obligation to unapologetically confront and oppose these violent and threatening displays when they occur," Cannon said.
Florida's Black Lives Matter Alliance leader Jasmen Rogers said her group's members have discussed armed security since being confronted by white nationalists in June.
Rogers and her fellow BLM activists in Hollywood, Florida, were protesting in support of an initiative to change the monikers of three local streets currently named in honor of Ku Klux Klan leaders. Rogers said a group of kevlar vest-wearing white men showed up that day doing Nazi salutes and shouting racial slurs at them while carrying flags and clubs.
"A couple of them were armed, calling black folks monkeys and the n-word, saying, 'white lives matter,'" Rogers said. "We've had a couple people who are trained security officers come and keep an eye out for us now. We've been having serious conversation about armed security for our events now that things are getting more volatile and more violent. More folks need to be having these conversations."
Aligning with antifa
Some of those conversations, according to Rogers, have included potentially aligning with local antifa activists who do not subscribe to BLM's common philosophy of nonviolent protest.
"We're not against working with folks that are willing to align themselves with Black Lives Matter's focus on protecting the most marginalized groups," Rogers said.
"We don't believe in inciting violence, but we will not let our people be harmed... When we've had our marches and our rallies, any person that has tried to get out of line with our values, we keep them in check."
Antifa protesters have been criticized by conservatives and progressives for rioting and committing acts of violence against alt-right demonstrators and other conservative advocates just for espousing their conservative views in public.
Local members of the group argue the alt-right has been using conservative protests to make white supremacist ideology more palatable to mainstream audiences under the guise of patriotism and First Amendment advocacy.
"Ignoring is enabling," Steven Goldberg of Southern Virginia antifa said via Facebook Messenger. "They're fascists. Antifa [equals] Antifascist action."
Cornell West and other BLM supporters who were in Charlottesville on Aug. 12 credit antifa activists with protecting peaceful progressive demonstrators from violent white nationalists.
"Without antifa, I promise you Charlottesville would have been a totally different story," 19-year-old BLM Greater New York activist Amanda Moore told Mic. "We need the Black Lives Matter strategy, which is more defensive, [but] we absolutely have to have antifa."
Yet by arming themselves and aligning with antifa protesters who support violently suppressing Constitutionally protected hate speech, BLM activists may be playing right into the alt-right's hands, according to Southern Poverty Law Center investigative reporter Ryan Lenz.
"It's chronicled in books like The Turner Diaries," Lenz said. "What we see on the streets of America right now, from the alt-right perspective, is the beginning of a conflict they are hoping brings about a race war. Are they going out to exercise their First Amendment right? Yes they are. But are they also going out and hoping to goad a response? Yes they are."
Still, Newsome and his BLM allies say confronting the alt-right is their moral obligation and already has helped advance the Black Lives Matter movement.
"Confederate statues are coming down all over the country now," he said. "In Charlottesville, you had people armed with love who went against people armed with knives and guns. And the people with love won."
Aug. 25, 2017, 10:40 a.m.: This article has been updated to attribute a statement to Boston organizer Monica Cannon.