After Charlottesville, BLM groups are set to stage mass protests against white supremacy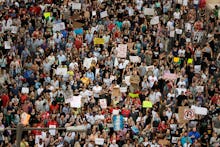 A coalition of groups organized in solidarity with the Black Lives Matter movement have planned mass protests for Saturday in response to the white supremacist rally held in Charlottesville, Virginia, a week ago.
The coalition — which debuted in March as "The Majority," a group of 50 partners representing blacks, Latinos, the indigenous, LGBTQ, refugees, immigrants, laborers and the poor — will converge on symbols of white supremacy around the country, according to a spokesperson for the Movement for Black Lives with whom Mic spoke. At least nine preplanned events, both in Canada and U.S. cities including San Francisco, New York City, Chicago and Minneapolis, appeared on a website publicizing the day of action.
"We call on all those who choose to stand on the side of justice, the side in opposition to white supremacy and state violence to take creative and courageous action where they live and challenge how white supremacy shows up in our communities," the website reads.
The protests come as communities across the U.S. mull over the removal of Confederate monuments from public parks and buildings as a counterprotest to the "Unite the Right" white supremacist and neo-Nazi rally in Charlottesville, where violent clashes and an attack on counterprotesters left one person dead and dozens injured.
The Majority's clarion call to anti-racism activists was amplified Thursday when President Donald Trump took to Twitter to express his disapproval over the removal of Confederate statues that have come down in Maryland, North Carolina and New York in recent days.
The Movement for Black Lives, which includes the Black Lives Matter Global Network, Black Youth Project 100 and Color of Change, has been among the social-justice activist groups leading the charge against a feared resurgence in white supremacist and neo-Nazi groups as well as hate violence. It was in the wake of the 2015 church massacre in Charleston, South Carolina, that BLM supporters demanded states lower Confederate battle flags, statues and other symbols.
Those efforts seemed to wane as Trump inched closer to victory in the 2016 presidential election, but some groups are doubling down in the wake of Charlottesville. For instance, Color of Change said it is maintaining multiple campaigns, including a demand that companies like PayPal cut off white supremacist groups that raise money through their services. The group has also urged business leaders to resign from Trump's advisory councils in protest of Trump's comments equivocating neo-Nazis and counterprotesters' aims.
Patrisse Cullors, cofounder of the the BLM Global Network — which includes 30 chapters in the U.S. and Canada — said white supremacy has to be rooted out of "every institution."
"Until we take on white supremacy at its core, we are further away from these lives and further away from a society which can honestly stand for freedom and equality for all," Cullors said in a recent statement.