Megachurch pastor resigns from Trump's evangelical council citing "conflict in values"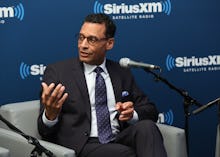 On Friday, megachurch pastor A.R. Bernard announced his resignation from the unofficial board of evangelical advisers for President Donald Trump.
According to his statement posted to Twitter, Bernard actually left his role on Tuesday, the same day the president made his stunning remarks about there being good people "on both sides" at the rally at Charlottesville.
"What about the alt-left that came charging at the, as you say alt-right? Do they have a semblance of guilt?" Trump told reporters. "What about the fact that they came charging with clubs in their hands? Do they have a problem? I think they do."
According to the Washington Post, Bernard was a part of a small group of religious leaders to give the president advice through the White House's liaison office. And as the Washington Post pointed out, several of the other members of the group have doubled-down on their support for Trump since his statements on Tuesday.
Johnnie Moore Jr., a former vice president of Liberty University, told the Washington Post via text that the group will not banish Bernard, but will instead extend invitations to hear his thoughts on issues in the future.
"I am responsible for attempting to give them good advice if I have the opportunity to do so," Moore wrote. "I believe it would be immoral not to try and make a difference when and how I can."
Of course this wasn't the only member of a Trump council to quit this week. As Mic reported, Trump's entire Committee on Arts and Humanities announced its dissolution on Friday in a scathing open letter to President Donald Trump.
"I can't remember when any sitting president stood up for a terrorist who killed somebody in the United States," Kal Penn, a member of the committee, said in an interview. "We don't want to be complicit in any of this. We don't want our names attached to this administration in any way."
Trump also disbanded the Manufacturing Council and the Strategy and Policy Forum, however, according to reports, the councils already decided to disband and several CEOs announced their resignations before Trump claimed the decision as his own.