Duke University has removed its Confederate statue of Robert E. Lee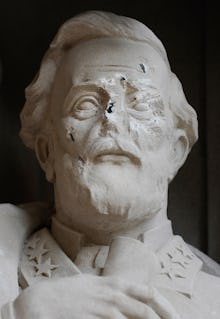 Duke University became the latest institution to remove a confederate statue from its property early Saturday morning.
The Durham, North Carolina-based school said it removed its limestone carving of Confederate General Robert E. Lee from its chapel after someone discovered the statue's face was damaged due to vandalism early Thursday morning, according to the Associated Press.
In a letter to the university community, president Vincent Price said he consulted with students, faculty, staff, and alumni before reaching his decision to remove the statue.
"I took this course of action to protect Duke Chapel, to ensure the vital safety of students and community members who worship there, and above all to express the deep and abiding values of our university," Price wrote.
News of the Duke statue's removal a week after violence erupted in Charlottesville, Virginia, over an ongoing dispute regarding the pending removal of another statue of Lee.
Hundreds of white supremacists descended on the historic Virginia town on Aug. 11 and 12 to protest the Lee statue's removal. Ku Klux Klan members, neo-Nazis and militiamen brawled in the streets with counterprotesters before one of them, James Alex Fields Jr., 20, drove his car through a crowd of people, killing 32-year-old Heather Heyer.
Another group of anti-Confederate protesters in Durham, North Carolina, tore down a different Confederate statue before being arrested or turning themselves into police in the days that followed, according to CBS News.
Baltimore city officials had a Confederate statue removed overnight on Wednesday, the Washington Post reported.