Colin Kaepernick receives support from both inside and outside the NFL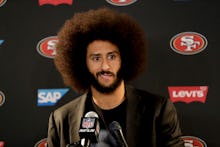 In 2016, currently unsigned NFL quarterback Colin Kaepernick took a knee during the National Anthem to protest police brutality.
On Saturday, more than 50 NYPD police officers hosted a press conference at Brooklyn Bridge Park to show their solidarity with the controversial athlete.
"Just because you are in law enforcement doesn't mean your voice is silenced and the First Amendment doesn't apply to you," NYPD Sgt. Edwin Raymond said on Saturday.
Raymond, 32, said he and other cops of color at the press conference know they are breaking the thin blue line code of silence that many officers fear could damage their careers.
"They were scared," Raymond said of the 40-plus active-duty officers who participated in Saturday's protest. "I got text messages and calls afterwards saying, 'I almost didn't come.'"
A day earlier, the Atlanta chapter of the NAACP stepped up its pressure on the league by announcing the organization will boycott anything having to do with the NFL until Kaepernick gets signed.
"There will be no football in the state of Georgia if Colin Kaepernick is not on a training camp roster and given an opportunity to pursue his career," Gerald Griggs, the group's vice president, recently told Fox 5 in Atlanta. "This is not a simple request. This is a statement. This is a demand."
NFL teams have come under fire for their refusal to sign Kaepernick, a 2013 Super Bowl standout who had a few subsequent rough seasons on bad 49ers teams before earning back his starting job last year from journeyman quarterback Blaine Gabbert.
While Kaepernick remains unsigned, Gabbert signed with the Arizona Cardinals in May.
The Baltimore Ravens flirted with signing Kaepernick before the team's owner reportedly refused to do so, opting to sign an arena football league QB instead.
Some NFL players say the league is trying to send them a message about "knowing your place" on the field.
But that message appears to be backfiring.
Raiders running back Marshawn Lynch refused to stand for the National Anthem during a recent preseason game. Seattle Seahawks defensive end Michael Bennett followed suit.
"This is bigger than me. This is bigger than football," Bennett told reporters on Aug. 14.
More than 1,000 people are expected to participate in a pro-Kaepernick United We Stand protest outside NFL headquarters on Aug. 23.
"[Kaepernick] has the support of not only black and brown folks, but police officers who put their lives on the line every day," Raymond said.