Valerie Plame Wilson is attempting to buy Twitter so she can ban Trump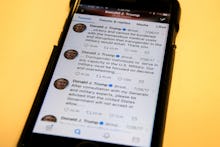 Valerie Plame Wilson, a former CIA operative under George W. Bush, wants to purchase enough shares in Twitter to ban President Donald Trump from ever using the microblogging platform again. And she needs your help.
"Donald Trump has done a lot of horrible things on Twitter. From emboldening white supremacists to promoting violence against journalists, his tweets damage the country and put people in harm's way," Wilson wrote on a GoFundMe page set up with the goal of purchasing shares of the social media giant. "But threatening actual nuclear war with North Korea takes it to a dangerous new level."
In total, Wilson is hoping to raise $1 billion to purchase controlling shares in the company, which is currently worth around $12 billion, with individual shares hovering around $16 a share, according to USA Today.
"Twitter is a publicly traded company. Shares = power. This GoFundMe will fund the purchase of a controlling interest in Twitter," Wilson wrote. "At the current market rate that would require over a billion dollars — but that's a small price to pay to take away Trump's most powerful megaphone and prevent a horrific nuclear war."
On the page Wilson further explained that Trump, as President of the United States, has every authority needed to make good on all of his Twitter threats any time he wants.
"There's a real danger that Trump's tweets could actually start a nuclear war," she said. "Let's delete his account before that happens."
In the posting Wilson also explained that if the GoFundMe is unsuccessful at purchasing the entire company, it will work to acquire a large portion of shares and "champion this proposal" at the company's annual shareholder meeting. And if that promise cannot be met 100% of the proceeds will go to the charity Global Zero, a nonprofit organization focused on ending the possibility of nuclear war. 
So far her GoFundMe has only raised about $3,900 toward its billion dollar goal.
Moreover, Twitter itself will likely never delete Trump, even with majority shareholder interest, as eliminating the president's personal account would cause the company to lose about $2 billion from its valuation, according to Bloomberg. To date, Trump has 36 million followers and is the 27th most followed person on the platform.
As James Cakmak, analyst at Monness Crespi Hardt & Co. told Bloomberg, "There is no better free advertising in the world than the president of the United States."